Monopolists in Our Midst
What happens when economists and state regulators give up on electric restructuring?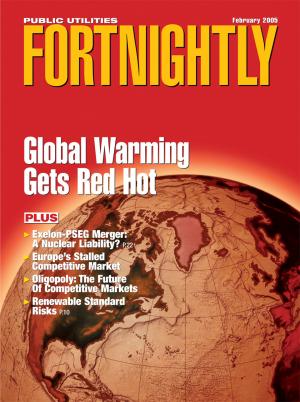 It's not to be taken lightly when several high-profile economists reverse themselves on electric competition—giving up on policies they had pushed for years. It's also quite serious when regulators and legislators in pro-competitive states become willing to discuss a repeal of electric restructuring laws. And this flip-flopping has come from such bastions of free enterprise as the Cato Institute, MIT's economics department, and the heretofore pro-competitive Ohio Public Utilities Commission (PUC).
These developments, seen over the fast few months, have set the industry buzzing. They portend an ideological retreat from the dream of competitive markets.
Even at the federal level, speculation persists whether FERC's chairman and market champion Pat Wood III will be renominated to a second term (his first term expires June 30), or whether Wood's push for regional competitive markets will end with him.
Nevertheless, experts point out that a clear winner of the overall restructuring policy debate is anything but assured. That's why this debate is so intriguing, they say. What's even more interesting is that all this criticism, coming as it does from theoretical economists, does not necessarily discredit the general notion of deregulation, as much as the model the regulators have chosen to implement competition.
Consider the Cato Institute's Peter Van Doren and Jerry Taylor, who came out against electric competition in their article, "Rethinking Electricity Restructuring," published last year in Cato's journal Policy Analysis . In essence, they said the patient had been ill for a long time, but the cure turned out worse than the disease:
"The poor track record of restructuring," they wrote, "stems from systemic problems inherent in the reforms themselves."
A second-best alternative, they said, would have been for those states that had already embraced restructuring to return to an updated version of the old, vertically integrated, regulated status quo :
"It's likely," they explained, "that such an arrangement would not be that different from the arrangements that would have developed under laissez faire ."
Van Doren and Taylor believe electric restructuring failed in its mission to provide price relief to high-cost states. That's not to say that the pair didn't have their criticisms of the old, vertically integrated model.
In the February 2004 edition of Public Utilities Fortnightly , they acknowledged the long-understood problem that traditional regulation had encouraged overbuilding and rate-base inflation, and explained how restructuring was supposed to fix the mess:
"Because investment in capital received a guaranteed return, total generation investment was excessive and skewed toward capital-intensive facilities. … Introducing market forces into the utility industry would eliminate the bias for capital-intensive projects by introducing uncertainty about returns."
More than that, Taylor and Van Doren cited the failure of restructuring to defuse the political infighting between the supply-siders and the environmentalists:
"Electricity prices were wrong all the time. They were too low on peak and too high off peak."
Market forces and marginal-cost pricing were seen as a way of leveling consumer electric demand, trimming the peak, and boosting consumption off the peak. This, as Taylor