The EPA Speaks Out: The Clean Air Interstate Rule Explained
The Environmental Protection Agency reviews how the multi-pollutant control concept is to work.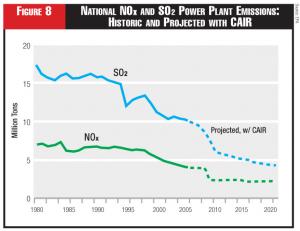 reductions from the power sector while maintaining energy diversity and reliability. The reductions achieved under CAIR will be met largely through the installation of pollution controls on coal-fired units and not through shifting to other fuel sources. This ensures a continued reliance on our abundant coal resources to produce electricity, but it will be in a cleaner and more efficient way. Coal-fired generation is projected to decrease about 1 percent by 2020 with CAIR, relative to what it would have been without further regulatory controls ( see Figure 7 ). EPA modeling of the power sector shows that increased electricity demand in the future will lead to the construction of roughly 15 GW of new coal-fired capacity with CAIR.
The emission reduction requirements of CAIR are anticipated to result in roughly 61 GW of additional FGD and 32 GW of SCR by 2015. By 2020, about 80 percent of all the electricity generated by burning coal in this country will come from sources with installed advanced pollution control equipment-scrubbers, SCRs, or both. These controls will be installed where it is cost-effective. However, other compliance options include switching coal types, shifting generation to more efficient and cleaner units, and buying excess allowances from other sources.
Looking at critical fossil-fuel markets for power generation, CAIR will not have significant negative effects. CAIR will not lead to natural gas price increases greater than 1.6 percent from 2010 to 2020. Furthermore, although coal-fired generation is slightly lower than it would have been without further regulatory controls, coal production for power sector use in all three major supply regions-Appalachia, Interior, and the West-is expected to increase from today's levels.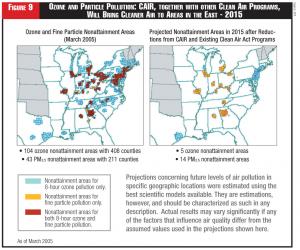 While the costs and impacts are significant, analysis showed that the economic strength of the nation is preserved while maintaining both low electricity prices and fuel diversity. On a macroeconomic level, the nation's GDP is affected by less than 0.04 percent by 2015. On a sector-by-sector basis, excluding primary fuels, the impact of CAIR ranges from 0.01 percent (chemical and allied products) to 0.09 percent (primary metals). These impacts are partially offset by growth in non-energy intensive sectors, such as retail trade.
Air Quality, Health, and Environmental Benefits
The Acid Rain Program, established as part of the 1990 Clean Air Act Amendments, is the most significant air program affecting the power sector to date. In 2003, emissions of SO 2 were reduced by 38 percent compared with 1980 levels. This program, in conjunction with the OTC NO X Budget and Federal NO X Budget Trading Programs and various state actions has reduced emissions of NO X by about 40 percent from 1980 levels. CAIR builds upon this success and will achieve significant additional reductions of SO 2 and NO X ( see Figure 8 ).
By 2015, CAIR will reduce SO 2 emissions by 5.4 million tons, or 57 percent, from 2003 levels in states affected by the rule. At full implementation occurring post-2015, CAIR will reduce power plant SO 2 emissions in affected states to just 2.5 million tons-73 percent below 2003 emissions levels. CAIR also will