CEO Pay Reflects Strong Stock Performance
The CEO Power Forum: TXU's Wilder nets $55 million package.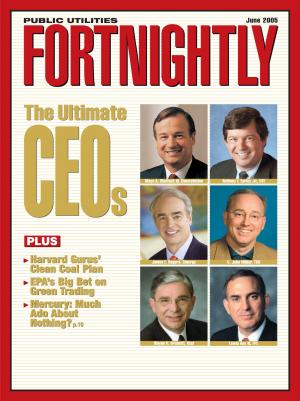 Power and utility companies had a good year in 2004, as did their investors. Energy stocks broke away from the pack during the second half of the year and ended up doubling the performance of the overall market ( see Chart ). This marks the second consecutive year of positive returns for the SNL Energy Index; however, in 2003 the index underperformed the broader market. Although industry operating revenues were up just 2 percent (from $22.1 billion to $22.5 billion), operating income rose 7 percent to $3.4 billion. Companies continue to embrace the back-to-basics strategy, and investors seem to think that it is paying off ( see "Industry Metrics," after article ).
The strong stock returns and improving profitability led to large compensation packages. TXU was at the top of the pack with a 177.7 percent increase, far ahead of all other power and utility stocks. As a result, CEO John Wilder also became the top paid executive in the industry, garnering a heady $54.7 million in total compensation for the year.
Back in the go-go trading days of 2000, former Enron CEO Jeffery Skilling's compensation package was $72.5 million. No one has seen such a hefty pay day since, but Wilder's compensation package is one of the highest ever in the industry. The number two and three power and utility executive compensation combined don't equal Wilder's pay package.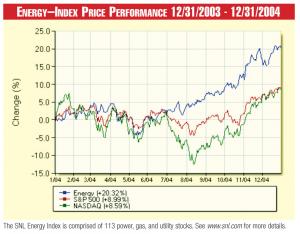 Allegheny Energy's Paul Evanson, the number two chief executive on the top pay list, netted $29.9 million.  Like TXU, Allegheny is still undergoing its own turnaround effort. For 2004 the stock was up 54.5 percent.
Coming in at number three on the list is Dominion CEO Thomas Capps. In April, Capps announced he would step down from his CEO post, and, perhaps in anticipation of that event, he exercised more than $16 million in stock options as part of his $23 million compensation.
The name that stands out among the top 10 CEOs in terms of compensation is Equitable Resource's Murry Gerber. The integrated gas company added more than $1 billion in market capitalization with Gerber at the helm, after starting the year with only $2.6 billion.
Measuring Up
How do the industry's top paid executives compare with the rest of corporate America? The answer is, very well. Wilder's compensation package made him the 11th highest paid chief executive out of America's 500 largest companies, putting him alongside corporate chiefs from high-growth companies like a Yahoo, InterActive Corp, and UnitedHealth. According to a feature on executive pay in the May 9, 2005, edition of Forbes magazine, each of the 10 highest paid power and utility industry executives (see Table 1) are among the top 150 executives in pay listed in the Forbes article, even