CEO Pay Reflects Strong Stock Performance
The CEO Power Forum: TXU's Wilder nets $55 million package.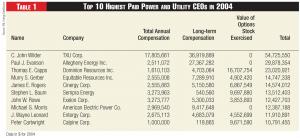 though not all the energy companies are among the 500 largest.
There has been quite a lot of turnover post-Enron at the top level of several energy companies. Roughly 30 percent of power and gas companies have new CEOs since the beginning of 2002. Some like TXU, Allegheny, Duke, and NRG, were among the top performers in 2004. All four of those recovery projects outperformed the SNL Energy Index for the year. Other companies with new CEOs, such as Great Plains Energy, ALLETE, and Northeast Utilities have not fared so well. Their CEOs might well have to consider drastic changes in their current business plans. Aquila, whose new CEO is really its old CEO, already has announced it will try to sell off large parts of the company.
Current conventional wisdom holds that too much emphasis was placed on stock grants and options as part of management compensation throughout the late '90s into the early part of this decade. Though essentially unprovable, business gadflies felt that this trend contributed to the stock-market bubble and succeeding corporate scandals. Despite discussions in the post dot-com-bubble era of moving away from overreliance on stock options, compensation packages of energy CEOs rely on hefty doses of stock grants and options, performance units that track stock, rabbi trusts, and other perquisites. At TXU, the actual cash part of John Wilder's compensation was only $2.1 million, and a cool million of that was a signing bonus to woo him away from Entergy Corp. Cleary, the compensation package set up by TXU's board just last year is prima facie evidence that the primary job of the CEO is still to move the stock price.

To the Rescue
In February 2004, Wilder rode into Texas to save once mighty TXU Corp. The company had foundered amid a see of financial turmoil in 2002, and the reputation of its management team suffered in the eyes of the financial community. Facing stiff competition, and saddled with a lot of unprofitable megawatts in what was in effect the only fully deregulated market in the country, the company needed bold action and decisive leadership. Gone were the days of trading your way to more and more revenue. Back-to-basics was the mantra, and therefore the prospects were for low single-digit growth for most companies.
Wilder quickly showed Texas and the rest of the industry that he was not all hat and no cattle. In a dramatic cost-saving move, TXU essentially outsourced most of its back-office functions through a joint-venture with Cap Gemini. Wilder sold off the gas distribution business, sold or mothballed marginal plants, realigned management, and convinced investors it would pay off. TXU's proxy filing indicates that $560,982 of Wilder's compensation was for use of TXU corporate aircraft.

Investors would argue that Wilder was worth every penny he was paid. Texas regulators may not agree, but the company is still headquartered in Dallas and is certainly much stronger financially than at any point in the last few years. Other CEOs also provided a lot of value to shareholders, though at not so great a