The Ultimate CEOs: James E. Rogers, Chairman, President and CEO, Cinergy
The CEO Power Forum: Not all utility CEOs are created equal...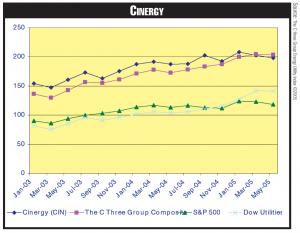 we think needs to be resolved. There are a lot of conventional coal-fueled power plants on the drawing board now. Greater price certainty for CO2 would greatly increase the odds these would be clean-coal plants.
Fortnightly What do you see as the solution to climate change in the electricity sector- IGCC, DSM, renewables, LNG, nuclear?
Rogers Coal will be part of the solution. It is the most available and least expensive energy source available to us now. We're confident it will remain so, even after you factor in the future cost of CO 2. This will require new technology to efficiently convert coal to electricity and then capture the resulting CO 2 and put it into geologic formations similar to those that have held natural gas for millions of years. We think the best approach now is IGCC (integrated gasification combined-cycle), where coal is converted to a synthesis gas of hydrogen and carbon monoxide, then burned in a turbine to create electricity. Other technologies like ultra-supercritical (very high temperature and pressures) may also work, but they are not as far along the development timeline.
We're told IGCC and carbon capture and storage is a very plausible approach, but obviously it hasn't been commercially deployed because it isn't without cost. Proving this technology represents a massive public good, for consumers, coal people, and environmentalists. Therefore its development should be supported with public money. Cinergy would like to be a partner in moving this forward, and already has a site picked out in Indiana on top of what is supposedly a terrific geologic formation. We're working with GE and Bechtel to make this happen. This technology may be the best source for hydrogen too for power vehicles. This is terrific opportunity for coal.
Fortnightly What is your view on renewables and conservation? What role do you think it will play?
Rogers Renewables and conservation will play an important role in a low-carbon future, but they should be brought on board as it makes economic sense, not forced ahead of time by mandates. As an example, we purchase five hybrid vehicles from Ford and Toyota for our fleet to give our folks exposure to this technology. These are terrific vehicles, but when we determine the costs of the CO 2 reductions they make it's on the order of $150/ton. The CO 2 price needed to make an IGCC plant a good investment is between $25 and $40/ton. From a carbon point of view, IGCC is the better investment. Technology mandates, whether for renewables or hybrids, risks spending a lot of money on one technology before the less expensive alternatives have been exhausted.
Fortnightly What approach to global warming would you recommend to regulators and policymakers?
Rogers We would prefer that legislators keep the following in mind when dealing with this problem. The economy is highly dependent on low-cost, high-CO 2 energy. Therefore, we have to develop policies that have the least economic impact. We don't want to be required to install a particular technology. We prefer a market-based solution like that used to address