Breaking the Gridlock
A proposal to remove the bottlenecks on grid investment.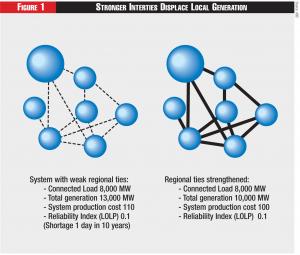 Investments in the U.S. transmission grid have been declining since the early 1970s. 1  Reasons include: 1) regulatory uncertainty; 2) onerous and multiple regulatory jurisdictions; 3) an extremely complex and time-consuming siting and permitting process; 4) uncertainty in the basic "who pays" vs. "who benefits" equation; and 5) shortcomings in the regional-planning processes.
The U.S. bulk transmission system now is stretched to the limits of its capacity. System operators are doing a remarkable job day in and day out of keeping the system in a secure state while squeezing out the last megawatt of transfer capability. Not investing in the bulk transmission system leads to congestion costs. More generation should be designated as RMR (reliability must-run generation) and higher reserve margins are necessary. In the longer term, lack of investment in transmission limits our ability to incorporate green, low-cost energy sources such as wind power into the grid. A study by ICF Consulting reported in Public Utilities Fortnightly clearly establishes that the benefits of transmission investments far outweigh the costs. 2
So what is being done to facilitate investments in transmission?  The Federal Energy Regulatory Commission (FERC) consistently has recognized the need to encourage investments in the nation's grid and has proposed a number of incentives for transmission companies to do so. It also has been favorable to merchant transmission proposals, and has gone so far as to back market-based bilateral arrangements for transmission ( e.g., TransEnergie's Cross Sound Cable). 
FERC also has endorsed regional transmission expansion planning (RTEP) by RTOs.  The RTEP process is well established in RTOs such as PJM and New England, and is under development in other regional planning entities, including New York. But given all the pushing and prodding by FERC, transmission investments remain anemic.
The lack of transmission investments transcends the usual siting and other complexities that utilities have grappled with for decades, pointing to a serious flaw in the market structure for transmission investments. In fact, the two main pricing options for transmission owners, both popular with regulators, have serious deficiencies. The first pricing mechanism involves recovering embedded costs via a network access charge (sweetened by FERC incentives). The second involves entitlements to receive congestion revenue rights (CRRs). The first pricing mechanism is a traditional cost-of-service model, which does not allow a transmission company or ratepayers to capture the benefits of innovations in technology or management. Given the costs, risks, and complexity of building transmission projects, the regulated rates of return may not offer enough incentives for transmission investments.
The second mechanism based on CRRs is simply too little and too uncertain to be bankable. The fatal flaw in this CRR mechanism is that once the transmission corridor is upgraded, the CRRs are worth a lot less than when the congestion was in effect. Former FERC Commissioner Don Santa notes that "while LMP functions as a means for rationing scarce transmission capacity in