LDCs: That Giant Sucking Sound
The consequences
of short-sighted
rate making.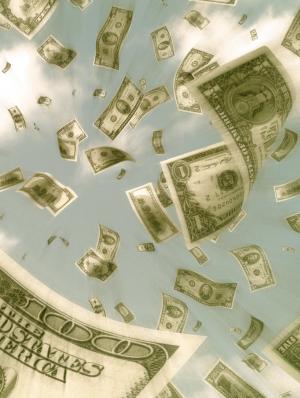 Natural gas local distribution companies (LDCs) charge customers for delivery service through what are commonly referred to as base rates. 1 An LDC's base rates are set by its state regulatory commission in a general rate case and are intended to provide the LDC with a reasonable opportunity to recover its revenue requirement, or its operating expenses (including depreciation and taxes) and a reasonable return on the capital invested to provide gas distribution service.
Commissions set LDC base rates for each customer class. These typically contain a fixed monthly charge, generally called a customer charge or a facility charge, and a volumetric charge for each unit of gas delivered. 2 The portions of the delivery revenue stream derived from customer charges and from volumetric charges differ from one LDC to the next, but LDCs typically depend on volumetric charges for a substantial portion of their base revenue recovery. For example, several recent LDC rate-case filings show that between 46 and 57 percent of current residential delivery revenue is accounted for by volumetric charges, and 72 to 77 percent of current commercial delivery revenue is volumetrically dependent. 3
Increasingly, many LDCs are discovering that traditional causes of inadequate earnings, such as higher wages and taxes and investment in new facilities, are not the primary drivers behind the need to request higher base rates. Rather than being driven by expenses or investment, inadequate LDC earnings are due, in large part, to delivery revenue shortfalls-specifically, their inability to achieve the delivery volumes used by their commissions to set volumetric base rates for residential and small commercial customers. 4
Causes of Delivery Volume Shortfalls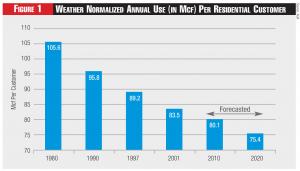 There are two primary causes of LDC delivery volume shortfalls. The first cause is weather-related. LDC delivery volumes, especially residential and small commercial volumes, are very sensitive to winter weather conditions. In developing the volumetric component of LDC base rates, state commissions apply volumes that are expected to be delivered under normal weather conditions. If a commission uses an unrealistically cold measure of normal weather, the LDC will discover that it cannot consistently achieve the expected delivery volumes, and associated revenue and earnings shortfalls appear. State commissions throughout the country successfully have resolved this problem for a number of LDCs through adoption of weather normalization clauses.
5
Through the operation of these clauses, LDCs can adjust the delivery service portion of customer bills to reflect volumes that would be delivered under the normal weather conditions used in setting base rates. Depending on the weather clause structure, the adjustments may be reflected on customer bills during the billing month in which the abnormal weather occurs, or they may be accumulated into a deferral account and reflected on next season's bills. Weather normalization clauses mitigate the problem of determining what normal weather is for the purpose of setting base rates, and also address the post rate-case earnings consequences of selecting an inappropriate measure of normal