Capital Management: The Missing Performance Driver
Does your company measure up?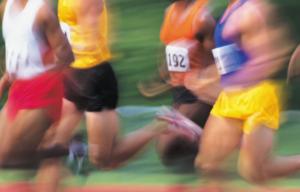 Few companies achieve sustainable high performance. Markets change but companies fail to adapt, and investors are unforgiving. Utilities, and new entrants, learned this lesson during the first competitive market cycle of the late 1990s and early 2000s, when few companies sustained a high-performance leadership. In fact, only two companies, Equitable Resources and Entergy, reached and maintained a total return to shareholders in the top 10 percent over this period. That is entirely consistent with performance across the broader S&P 500, where only 1 in 10 companies outperformed their peer group over a 10-year period. Sustained growth is elusive. From 1955 to 1995, only 1 in 20 of the 172 companies in the Fortune 50 achieved real growth of more than 6 percent.
To meet performance expectations, utilities and other capital-intensive industries have tended to focus on improving operational effectiveness and reducing operating costs, reflected in the "back-to-basics" trend among utilities over the past few years. This approach will improve performance in the short term, and can lay the foundation for redefining the operating model of a company. However, it is only part of the picture, and is unlikely to yield sustainable value creation. In capital-intensive industries, these types of efficiency improvements often are needed simply to maintain the current position on the supply curve, as evidenced by flattening cost curves in industries like petroleum refining and paper production. Any gains quickly vanish as all players make similar cost improvements.
Utilities are no different. Having experienced the wholesale market collapse and the "back-to-the-basics" traditionalism that followed, utilities now are faced with the challenge of generating meaningful, sustained earnings growth. With limited growth options, and generally low-risk tolerances, what will separate the leaders from the others?
Achieving High-Performance Differentiation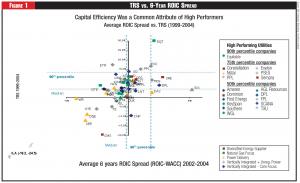 Capital management is one of the primary differentiators in the utility industry. Where and how utilities deploy capital will have a major impact on earnings, productivity, and system reliability. But because it is more difficult to assess and measure, capital management is underused in achieving differentiated performance and sustainable competitive advantage.
Effective capital management requires robust strategic management and performance processes. While the importance of capital management may be obvious at one level, it breaks a traditional paradigm that all capital investment is good under rate-based regulatory regimes. However, the environment has changed. Lengthened duration between rate cases, greater downward pressure on allowed rates of return, and increased deregulation and competitive market participation have disrupted this paradigm.
Consequently, leaders increasingly aspire to best-practice capital management processes, often following leaders in other capital-intensive industries.
The importance of capital management is borne out by an examination of performance through the recent competitive market cycle. Capital efficiency was the most consistent defining characteristic of better performing utilities during the recent market cycle, and the only performance trait common across high performers in all competitive segments.
High performers had an