Outsourcing: All It's Cracked Up to Be?
Despite several high-profile deals, utilities remain cautious about outsourcing their key business processes.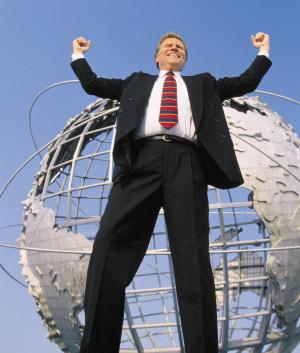 It seems that "outsourcing" has become a dirty word among utility executives. But though left unsaid in polite conversation, the word is still on everybody's mind. They might even be doing it. They just aren't talking about it.
A case in point is Xcel Energy. The company's IT-outsourcing relationship with IBM dates from 1995, when Xcel predecessor Public Service of Colorado engaged IBM Global Services for technology and data-processing services. After Xcel was formed in 2000, the company expanded its contract with IBM to include automation and integration services. "That has evolved into what I would call a true partnership," said Xcel CEO Wayne Brunetti in an interview for Fortnightly's June cover story ("The Ultimate CEOs ," June 2005) . "We have one of the most unique contracts with IBM. I always remark that I can't tell an IBM employee from an Xcel employee."
Widely recognized as one of the utility industry's most advanced business-transformation outsourcing (BTO) initiatives, the Xcel/IBM technology partnership expanded again in 2004 to include four other companies, covering supply-chain, workforce and field-operations management, metering, billing, outage response and other areas. Yet when Fortnightly contacted Xcel Energy to request an interview for a story on the challenges of outsourcing, the company declined, saying it was not involved enough with outsourcing to address the issues that had posed.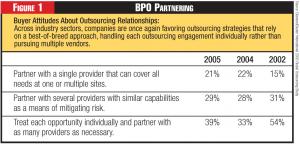 Some other utility-industry outsourcing leaders responded similarly. TXU, which began a comprehensive outsourcing engagement with CapGemini in 2004, did not respond to queries, and Entergy, which outsourced a variety of IT services to SAIC in 1999, said the company's executives still are grappling with many of the same questions that posed. "You're a little ahead of us on these issues," Entergy's spokesperson said.
Specifically, Fortnightly sought to learn what BTO and business-process outsourcing (BPO) really means for utilities today, in practical terms. The questions asked whether utilities were retrenching on BPO (following the trend in some other industries), and how those utilities who instead were going ahead were resolving concerns about governance, information security, workforce reduction, and integrating processes with vendors.
At first the cold-shoulder response was puzzling; after all, these questions are not especially controversial. But after speaking with other executives and analysts the reasons became clear.
In short, "outsourcing" has acquired a negative connotation. Companies with extensive BPO initiatives stand to gain little by advertising the fact, and potentially a lot to lose. Companies across industries increasingly are sensitive to the concerns that employees, customers and policymakers express about outsourcing (See Figure 1) . So instead of discussing these issues, companies say nothing, or they emphasize the technology and service-quality objectives that come with their outsourcing initiatives.
"We had to transform our back office to be a competitive weapon for our consumer retail business," TXU CEO John Wilder told in our June cover story. "The way you transform a back office is through technology." Similarly, Xcel refers to its wide-ranging program as "Utility