Following Up on a Capital Performance
Utility stocks have outperformed the broader market. Can the industry deliver a show-stopping second act?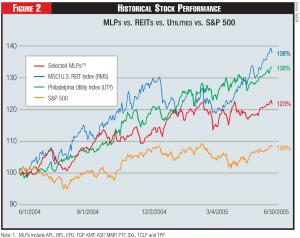 markets phenomenon that helps to explain the recent sector performance is, quite simply, the fact that utilities were under-owned by many large asset managers. Primarily based upon the thesis that interest rates were likely to begin rising in late 2004 and throughout 2005, many sell-side Wall Street analysts had "underweight" or "cautious" ratings on the sector for much of this recent run in utility equities.
And many of the largest mutual funds seemed to agree. In June 2004, when utilities really started to outperform the market, many asset managers were underweighting the sector. Specifically, of the 10 largest common stock mutual funds, utilities comprised, on average, only 3.1 percent of the portfolios. As of June 2005, those same mutual funds, on average, had a 4.7 percent weighting, and those 10 funds alone accounted for more than $600 billion in assets under management. Therefore, last year, simply by increasing the average weighting of utilities in their portfolios, 10 large mutual funds created more than $10 billion of incremental demand for the group. Utilities have outperformed because of market demand for yield, the improved earnings outlook for the quasi-energy plays, and the fact that they were underweighted by large-cap asset managers.
In essence, many issues related to the capital markets conspired to help drive the performance of utilities. An improving financial outlook for the sector with tax relief on dividend-paying stocks and a sustained environment of very low absolute interest rates explains a large part of the sector performance. Evan Silverstein, former head of Silcap LLC sums it up: "Tax law change [on dividends], thirst for yield in an uncertain economy, and record low interest rates led to outperformance." The other reason for the industry's outperformance, he adds, is what experts in the industry call "the commodity kicker."
Boom Time for Commodity-Sensitive Stocks
It is precisely this commodity kicker that makes for lively debate on the root causes for the sector's outperformance. For many, technical issues in the capital markets explain only a portion of the sector's success. Leslie Rich, a senior analyst at Columbia Management, says, "The principal factors of utility outperformance have been the strength of the commodity markets coupled with increasing amounts of unregulated generation driving gross margins higher, and a lackluster broader market forcing investors to seek yield and growth."
Others agree that certain fundamentals are responsible for sector performance. "The supply/demand for power and the pricing outlook is much better, and companies are doing a better job at executing," said an analyst from another large mutual fund. Even the capital expenditure outlook for the group is viewed as a positive. Kathleen Lally, an analyst at Angelo Gordon, points out that the "forecast growth in capital spending has provided investors with a clearer picture of potential growth in earnings for the sector." And this really gets to the "Back-to-Basics" theme that many have focused on.
ITC Holdings as a Microcosm of the Utility Space
In late July, ITC Holdings, the first independently owned and operated transmission company in the United States, issued an initial public offering (IPO) for 38 percent