Interest Rates and Fiscal Armageddon
How to prepare for killer capital costs on future power-plant builds.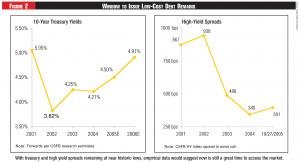 dip negative again next year with the [capital expenditures] on the rise for environmental spend, and also for emissions credits." Anyone tracking SO 2 prices would note that they continue to be off the charts, as one environmental analyst recently put it.
Furthermore, Lacey also is concerned with high-growth targets "being baked into the [2006 earnings per share]."
"With [price-to-earning] P/E multiples so high on a relative basis, we have to believe share buybacks and dividend increases will continue to be pervasive next year," Lacey says.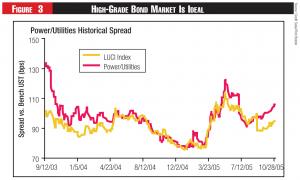 Naturally, other fixed-income analysts have concluded that new issuance on the debt side should be "very, very big." One fixed-income analyst predicts post-merger utilities will issue debt (even as many deals are financed with equity).
What is a utility executive to do?
Before Your Back is Against the Wall
Two bankers offer their view on strategies that utility executives can undertake now to preserve their low cost of capital in anticipation of the industry's higher capital spending needs.
"Utilities, of course, hedge power prices. They are also experienced at hedging their fuel prices. Why wouldn't utilities take advantage of low long-term interest rates and hedge themselves that way," says an investment banker at a top-tier firm who preferred to remain anonymous. He believes utilities could lock in low rates now "by swapping into fixed-rate debt." It accomplishes the same goal as refinancing by moving out the company's maturity, he says. He adds that such financial instruments are widely traded.
"So, you would go to J.P. Morgan or Citibank's swaps desk and you'd say, 'We want to synthetically extend our maturity profile out for a few years.' A possible downside in the short run is that because you still have a slightly upward sloping yield curve, pushing out your maturities or pushing out the average life of your debt is going to have the effect of making your cash interest costs a little greater than they would be for the first couple of years," he says.
"Maybe you are making them a little higher than they would be for a couple of years and then they are going to be a lot lower because you will have all this fixed-rate debt that is so much cheaper than all the rest of the market, assuming you believe long-term rates won't stay this low forever," the banker says.
Jonathan Baliff, managing director - global energy group, Credit Suisse First Boston, says the type of interest-rate risk management a utility chooses will depend on its certainty that a power-plant project will get built.
"There is a cost to hedging—think of it as insurance—but there are a lot of products that can hedge the underlying Treasury rate, and most have a cost. However, today, the interest rate hedging market has never been better because the yield curve is very flat. You can lock Treasury rates in at a much lower cost than we have historically seen. But there is a cost to it," he says (see Figures 2 and 3).
Baliff explains that a forward contract that is costless upfront puts