Regulated Utilities: Reinventing the Classic Business Strategy
Opportunities and limitations of five top strategies.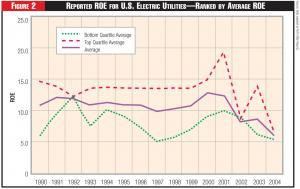 is for the company to pay out a dividend, and for each individual investor to diversify his or her own portfolio.
For the regulated utility, the additional attraction of any diversification, related or unrelated, is frequently the lure of a higher nominal return on investment in the non-utility than that offered by the regulated business.
We do not offer an opinion as to whether this or any other approach is always, or even usually, successful. Karnani concludes that, in spite of the adulation and success of General Electric (GE) (and, we would add, of its former CEO), "the odds do not favor a strategy of unrelated diversification."
Recent examples include short-run stock price appreciation where unregulated companies and even some utilities have hit the diversification jackpot. This has been the case when the unrelated diversification has been in a particularly hot industry. Examples from the 1990s have seen utility stocks run-up based on investments in such trendy areas as the Internet, telecommunications, auctions, and fuel-cell technologies. The old adage says timing is everything, but given enough time, another old adage arises: "What goes up must come down."
The conglomerate form is no longer popular in the United States and Europe, but Karnani points out that it is the dominant form of organization in Japan, Asia, and Latin America. He ascribes this to "inefficient capital markets, the importance of political influence and a shortage of managerial talent." Arguably, these are not universally recognized attributes of the U.S. economy.
However, one knowledgeable observer, the late Joseph F. Brennan, a utility rate-of-return expert witness, once said that a version of the "inefficient capital markets" thesis was the only justification for an "unrelated" diversification strategy by regulated utilities. Brennan asserted that utilities could use their access to capital markets to finance the expansion of local emerging companies. To do this effectively, he observed, the incumbent utility management would need to acquire or develop the "core competency" of a successful venture capitalist. When asked how this could be done, he reflected, "Everything is possible, but not probable."
Even if a utility's management could convince its board of directors to permit a strategy of non-related diversification, there are regulatory risks. A regulated public utility could diversify directly by acquiring non-regulated unrelated subsidiaries. It also could create a holding company and diversify away from the utility. In both cases, a reasonable regulator will be watchful to ensure that the diversification does not increase the cost of capital to the utility, add risk to the utility, or transfer any inappropriate costs to the utility.
For these reasons a utility management team runs a regulatory risk when it decides to diversify investments.
An unreasonable regulator could try to confiscate earnings of the unregulated operations by transferring utility costs to the unregulated operations through inappropriate allocation mechanisms. One common method is to charge the lower of costs or fair value for items purchased by the utility from affiliates but to charge non-utility affiliates the greater of cost or market for items provided by the utility. This is known as "asymmetric pricing." Similar