Before the Utility Merger: Thinking Through IT Integration
The way senior tech executives and business managers define success has changed.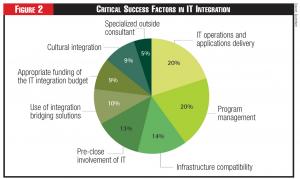 our total survey audience (business and IT executives) was asked to choose the "most critical factor for the success of IT integration" from among eight items, only 9 percent named culture, which tied for sixth (see Figure 2) . In other words, as a factor to be anticipated, IT cultural integration does not appear significant.
According to the same survey respondents, however, their actual M&A experience suggests something different. When asked to choose the "greatest impediment to successful integration" from the same list of eight items, the executives ranked "cultural integration" second (after "infrastructure compatibility"); it was named by 21 percent of the executives.
This corresponds to our own experience working on post-merger integration efforts for major companies and strongly suggests that learning how to plan and execute IT cultural integration is becoming a best practice that is too important to ignore.
Differing Worldviews, Differing Expectations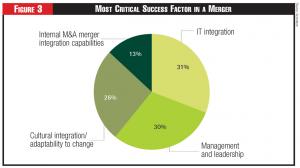 In general, where there were notable differences in survey responses, business executives were nearly always less optimistic than their IT peers, with more modest initial expectations. For example, roughly twice as many IT executives as business executives—31 percent versus 15 percent in the United States, and 12 percent versus 5 percent in Europe—characterized their most recent merger experience as "extremely successful."
Similarly, nearly a quarter of U.S. IT executives stated that recent post merger integration efforts were stable within a month of close; only 9 percent of their U.S. business executive counterparts felt the same. Twenty-nine percent of U.S. IT executives state that all of the projected value from IT synergies either "were realized" or "were expected to be realized;" just 8 percent of their U.S. business executive counterparts felt similarly.
It is not entirely surprising, given both field observations and previous research conducted on the subject, that there would be significantly different views about post-merger integration challenges and outcomes between IT and business executives. In our experience, for example, many IT executives define "post-merger integration success" in terms of "IT integration," using, for example, connectivity or operational-continuity metrics—"Did we get the help desk up and running quickly?" or "How quickly was email consolidated?"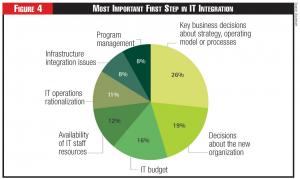 Business executives, on the other hand, define post-merger integration success in terms of the business integration and synergies that IT has enabled, such as the support of merged sales forces and an integrated view of the customer (see Figure 3) . This observation bears out in our survey data on use of performance metrics for IT integration. When those who said "yes" to the use of IT integration-performance metrics were asked which measures they used, some important differences emerged. "Cost savings" metrics were used by 91 percent of U.S. IT executives, but only by 50 percent of their European counterparts. On the business side, the U.S.-Europe gap was even greater—79 percent (U.S.) versus 31 percent (Europe).
Given our belief that framing IT issues primarily in terms of cost misses the full meaning of "value creation," we think the regional and functional discrepancies in the priority assigned to cost savings are noteworthy.
A Moving M&A Success Standard
One possible explanation for the variance