Rising Unit Costs & Credit Quality: Warning Signals
With increasing unit costs, the financial prospects and credit outlook for many utilities will depend on their success in passing along such costs to consumers.
The utility sector still has excellent access to the capital and credit markets. Yet, it is never safe to assume utilities will continue to enjoy the same low costs of capital. This is particularly true for companies facing compressed margins, regulatory deferrals or disallowances, and rising debt leverage.
Unit costs of electricity and gas service are rising faster than the underlying inflation rate, and that trend will intensify with the higher market prices of natural gas and other energy commodities.
Commodity prices are not the sole factor raising the longer-term costs of electric and gas service. Capital expenditures are on the rise for network reliability, mandated environmental compliance, and resource adequacy. Utilities face rising non-fuel operating and maintenance expenses, particularly for pensions, employee medical expenses, and post-retirement benefits. A trend of declining interest expense that benefited the sector over the past four years is likely to reverse in the next several years. These factors all contribute to an outlook for rising unit costs of electric and gas service. In an environment of increasing unit costs, the financial prospects and credit outlook for many utilities will depend on whether they pass along such costs to consumers in the form of higher tariffs.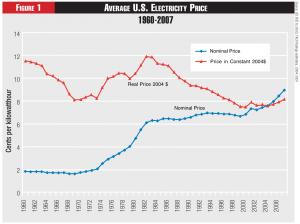 Fitch views higher costs per unit of sales as a negative development for many utilities. Consider the alternatives. On the one hand, utilities in more punitive regulatory jurisdictions that do not allow recovery of the full costs will experience lower profit margins, increased debt leverage, and weaker credit measures. On the other hand, even in a regulatory jurisdiction that permits full fuel adjustments and base- rate increases to recover higher costs, a possible adverse consequence could be declining sales growth or even demand destruction that requires the utility to raise unit prices even more to recover fixed costs.
In the immediate aftermath of 2005 hurricanes Katrina and Rita, the sector's risks are elevated. The ramifications of higher gas-commodity prices and the related effects on the prices of coal, emission credits, and wholesale electric power are tipping the balance toward greater risk for regulated gas and electric utilities and for those generators most dependent on natural gas. The extreme-ly rapid rise in natural-gas prices creates concern about rate shock to residential and commercial customers of those utilities most sensitive to natural gas and commodity price volatility. While public service commissions generally recognize that escalating fuel and purchased-power costs are beyond the control of gas distribution and electric utilities, undoubtedly there will be public pressure to moderate tariff increases. As a result, investors in utility securities face greater risk of adverse regulatory, political, or legislative decisions.
The consequences of these developments will differ among individual companies.