Winning the Merger Game
A new wave of consolidation is coming. To succeed, a company must understand where its strengths are.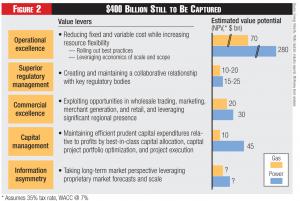 to progress much over the next few years.
Efforts to diversify into other areas, such as telecom, proved unsuccessful in the 1990s. Since the overall pie is growing very slowly, M&A is one of the few viable options for value-creating growth. At the same time, the environment is becoming increasingly favorable for consolidation. Regulatory barriers to M&A are lessening. Recent repeal of the Public Utility Holding Company Act (PUHCA) enables power companies to own operations in non-contiguous regions. 2
The Federal Energy Regulatory Commission also is attempting to make market rules somewhat more homogeneous. Regional transmission organizations (RTOs) have established common standards for interconnection among plants and standard protocols for wholesale trading. By making it easier for companies that operate in different regions to interact and share practices, the initiative will also make it easier for companies to capture scale and synergy benefits through M&A.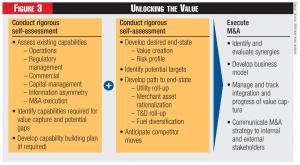 There is good reason to believe that many states' public utility commissions will look more kindly on M&A activity if the value proposition for ratepayers is well conceived. To the extent that consolidation will put control in the hands of the natural owners of the industry's assets—those that manage them best—consolidation will serve a public good. Reliability, service, and customer satisfaction could improve as a result.
Finally, the fragmented structure of the U.S. power industry indicates the potential for M&A. The top four power companies receive only 17 percent of industry revenues, compared with more than 50 percent or more for other basic industries, such as petroleum or chemicals. History shows that when barriers are removed, fragmented industries consolidate. This proved to be the case in Germany and the Netherlands, where the top four power companies now generate 90 percent and 65 percent of industry revenues, respectively.
Why M&A Is Underused
Recent large deal announcements involving Duke and Cinergy, Exelon and PSEG, Mid-American and PacificCorp, and FPL Group and Constellation suggest that M&A activity is on the rise. However, many companies still shy away from M&A. This stance is backed by commentators, academics, and industry experts who have found that the odds are stacked against successful value creation in M&A. A number of studies have shown that stock prices actually drop in the period leading up to a merger or acquisition or in the days following a majority of deals.
In a 1999 article published in the Harvard Business Review, Alfred Rappaport and Mark L. Sirower show that acquirers' stock prices after a deal is announced decline immediately in about two-thirds of all acquisitions. They argue that this reflects investors' beliefs that the acquirer is not likely to maintain the original value of the combined assets or achieve the synergies and other benefits required to justify the premium it paid to the owners of the target.
In their 2004 book, Mastering the Merger, David Harding and Sam Rovit cite a study of 790 deals made by U.S.-based companies from 1995 to 2001. They conclude that the study "corroborates the findings of the academic research," which "demonstrate that something on the order of 70 percent of all deals