Letters to the Editor
To the Editor: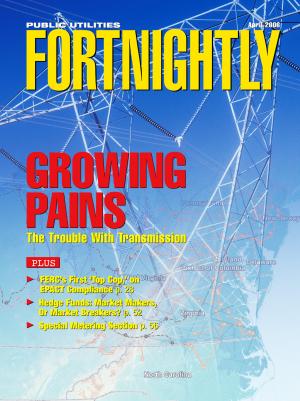 In "Rate-Base Cleansings: Rolling Over Ratepayers" (November 2005, p.58), Michael Majoros urges state public utility commissions to recognize a refundable regulatory liability for past charges to ratepayers for non-legal asset retirement costs. "Unless the state PUCs specifically recognize the liabilities, the utilities will have the opportunity to institute a rate-base 'cleansing' by transferring ratepayer-fronted money into income." The author's criticism of the prescribed accounting for discontinuation of FASB Statement No. 71 (euphemistically labeled "rate–base cleansing") is grossly misplaced.
Regulatory assets and liabilities can be created either a) within the accounting framework of financial reporting required for non–regulated enterprises; or b) within the accounting framework for regulated utilities prescribed by the Uniform System of Accounts (USOA). Differences between financial accounting and regulatory accounting are permitted under generally accepted accounting principles (GAAP) provided the general-purpose financial statements of a regulated entity are prepared in conformance with the provision of FASB 71. In particular, if current recovery is provided under regulation for costs (that would not be recognized in the accounting framework for non-regulated enterprises) that are expected to be recovered in the future, FASB 71 requires a regulated entity to recognize these current receipts as liabilities.
Regulated assets and liabilities created within the framework of regulatory accounting prescribed by the USOA arise from specific revenues, expenses, gains, or losses that would have been included in net income in one period under the requirements of the USOA but for it being probable that a) such items will be included in different periods for the purpose of developing rates charged for utility services; or b) refunds to customers are not provided in other USOA accounts.

The reporting of a regulatory asset or liability is dependant upon the accounting framework in which the asset or liability arises. In the case of removal costs (or non-legal asset retirement obligations), the accounting framework for reporting a regulatory liability is GAAP for non-regulated enterprises. This liability does not create or imply an obligation to refund past charges to ratepayers. It simply means that regulation is permitting recovery of a future cost that would otherwise be reported as a current expense for a non-regulated enterprise.
Including cost of removal as a component of depreciation rates is widely recognized and accepted by a substantial majority of state regulatory commissions as a standard ratemaking principle. Net salvage is included as a component of depreciation rates to equitably distribute cost of removal (less salvage) over the periods in which the assets that created the cost are used to provide utility service. Any concern over the magnitude or timing of these charges is properly addressed in the course of conducting depreciation studies. Ratepayers are not entitled to a refund of costs recognized to provide services they have already received.
Karen G. Kissinger
Vice President, Controller & Chief Compliance Officer, Tucson Electric Power Co.
To the Editor:
I would like to comment on the article by Michael J. Majoros Jr. ("Rate-Based Cleansings: Rolling Over Ratepayers," November 2005, p. 58).
I find it interesting that Majoros is critical of the traditional method of