Special Section On Metering: Thinking Smart
Legislation and technology developments give a jump-start to smart metering
What a difference a year makes. In 2004, automated metering infrastructure (AMI) was in something of a slump, but the Energy Policy Act of 2005, an uptick in natural disasters, and encouraging results from pilot projects have strengthened the business case for investing in AMI.
What a difference a year makes.
In 2004, the automated metering industry was in something of a slump. After the 2003 Northeast blackout, and facing rising gas prices and diminished investor confidence during a time of war, many utilities put automated meter reading (AMR) on the back burner.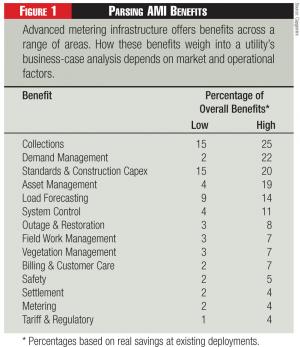 Things changed in 2005.
First, Congress enacted the Energy Policy Act of 2005 (EPACT), and more specifically, Section 1252. The "smart metering" title compels utilities and public utility commissions (PUCs) to evaluate time-of-use metering. If savings can be found, regulators likely will demand them on behalf of ratepayers.
Second, Hurricane Katrina put the fear of nature into utilities and regulators—principally via skyrocketing natural-gas prices. Indeed, lawmakers in some states even are proposing rate freezes. One effect of this has been to put a premium on peak-shaving options—such as demand-response metering—as alternatives to burning costly natural gas in peak-load units.
Third, pilot projects to study the value of advanced metering infrastructure (AMI) have yielded encouraging results for many utilities. For example, at Salt River Project in Arizona, what began as a modest 500-meter test of Elster Electricity REX meters expanded in 2005 to 75,000 meters and counting. "Projected savings have exceeded our expectations," says John Soethe, manager of revenue-cycle services for Salt River Project. "We like the fact we can not only do AMR, but automate the field-service function. Also we're seeing the back-office benefits. We're very pleased with the performance of our smart meters, and we expect to continue expanding the system."
These and other factors have strengthened the business case for investing in AMI, and utilities and PUCs are coming out of the woodwork to investigate the options. "There has been a flurry of activity," says Eric Dresselhuys, vice president with Silver Spring Networks in San Mateo, Calif. "EPACT jump-started the states, and awareness and interest nationally has increased at federal, state, and local levels."
Nevertheless, much of the activity today is focused on gathering information rather than placing orders. How many states might adopt smart-metering regulations in the near term remains uncertain. Utilities and regulators likely will continue asking tough questions about the technology, as well as how to equitably finance investments whose benefits accrue to a mix of utility stakeholders.
AMI Business Case
EPACT Section 1252 takes a soft approach to mandating smart metering. At first glance, the legislation appears to require all U.S. electric utilities, by January 2007, to offer time-based rate schedules to all customer classes, along with the necessary meters and communications technology. But how to accomplish this—and indeed, whether to implement a smart-metering policy at all—are questions left to state utility commissions