The CEO Forum: The Ultimate CEOs: David L. Sokol
Chairman and CEO, MidAmerican Energy Holdings Co.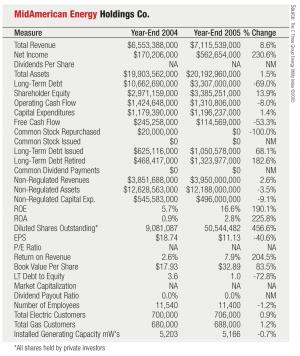 should receive in that equation.
Fortnightly: Why did you choose to acquire PacifiCorp? Why do you feel you could better run that utility than Scottish Power?
Sokol: Scottish Power bought [PacifiCorp] about six or seven years ago when it looked like the western United States was going to completely deregulate. That was something Scottish Power was comfortable with, given the UK model. Almost immediately after they closed on their acquisition of PacifiCorp, the California energy crisis occurred, they had some other unfortunate operational problems, and they ended up losing a fair bit of money because of the short position that occurred in the West [as a result] of the California energy crisis. So they kind of got off to a bad start.
From that point forward, when deregulation didn't occur, it became relatively clear they would ultimately exit the U.S. business. From our standpoint, the assets make good sense for us. We're very comfortable in the U.S. marketplace. We intend to own these assets and be the last owner of them. Therefore, we can plan on the kind of capital expenditure, transmission expenditure, generation issues and development that PacifiCorp needs over the next 20 to 30 years. And we're quite comfortable putting that capital to work and improving upon their generation fleet and their transmission infrastructure in between those six states. It fits very nicely into our model of owning high-quality regulated assets in various jurisdictions and then operating them with the greatest efficiency.
We were a logical buyer for Scottish Power. They needed to know they were going to sell to a buyer who was committed to closing the transaction and had the skill and knowledge base to get the approvals in a reasonable time frame, and who could live with PUHCA had it not been removed. Because as of this time last year, there certainly was no certainty that PUHCA would be repealed.
On the other side, we're very pleased to have closed on the assets and look forward to running them. They have a good heritage in many parts of their businesses in terms of safety and customer satisfaction, and we look forward to building on those.
Fortnightly: Why do you think you were so effective with regulators in closing the deal with PacifiCorp?
Sokol: I think one real benefit we have [is that] we're blessed as a company to be 85 percent owned by Berkshire Hathaway. Berkshire [is rated] AAA, and Warren Buffett's stated view [is] they never sell assets. The regulators recognize energy prices and the quality of energy service are absolutely essential services to their customers and to their state's economic development. These aren't assets that should be highly levered or flipped through hedge funds and things of that nature.
This is just not a business prone to fast money. I think regulators recognize Berkshire's reputation for integrity and long-term ownership is very comforting to regulators that don't want to have to worry about companies getting into financial trouble or needing to sell their assets, or things of that nature.
Fortnightly: You've managed investor-owned public companies