The CEO Forum: The Ultimate CEOs: Peggy Fowler
President and CEO, Portland General Electric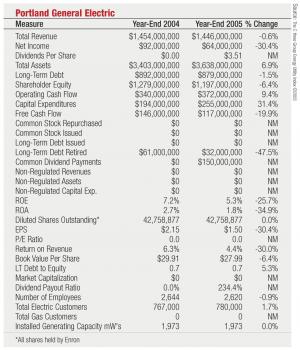 distribution and transmission and all those economies-of-scale things, And a quarter of their bill was power generation. Well now it is probably 50 percent on power and 50 percent T&D.
We are a net-benefit state—if anybody is going to buy us, they have to show a net benefit to customers ultimately. The only way you get that is if somebody has excess generation capacity and comes in and lowers customers' prices. You don't get it from economies of scale of billing systems or distribution information systems.
In fact, the commission probably keeps all that. They don't let that flow through to shareholders. And there probably isn't much there to begin with, just because of the nature of the business. So, even when you look to the East where places are more closely located, there may be some places where [mergers for scale economy] make sense, but they are struggling with that issue. Time will tell. Then you move to the Northwest, or places in the West. If you look at Puget Sound, they are slightly larger than we are. Avista is smaller. Idaho [Power] is smaller. Certainly, Idaho is doing very well, they have investors who are interested in them. You look at Northwest Natural, they are doing great. Lots of investors are still interested in stable, predictable earnings and dividend growth that is reasonable.
Fortnightly: How would you describe your company today?
Fowler: We are mid-sized, somewhere in the neighborhood of $1.5 billion to $1.8 billion market-cap, which puts us about in the middle of the regulated utilities. We have a good service territory that is growing. We have opportunities to invest in generating plant and in transmission and distribution plant. We have very good, strong cash flows.
It is very clear we are a vertically-integrated regulated utility. During all of this, we managed to keep our investment-grade rating, through hard work on our part as well as the PUC putting the ring fence in place keeping Enron from sweeping cash or causing us to lower our credit rating. We think we do have an opportunity for earnings growth and to pay a competitive dividend to our customers.
Fortnightly: They say more financial players are going to be coming in and purchasing utilities. Given your experience, what is your view on the use of leverage, and why do you believe Texas Pacific Group failed in its acquisition?
Fowler: A leveraged transaction from a commission standpoint puts too much risk on the customers. It doesn't appeal to them. They don't see the benefit unless a company is truly in financial trouble. It's kind of interesting, looking at down at Tucson [UniSource Energy] with KKR, I thought that one might get approved just because of their financial situation. Our financial situation was always stronger, so as we looked at the Texas Pacific Group, I wondered if that could ever happen. Even in Tucson, they just didn't see enough benefit in a leveraged situation like that.
Fortnightly: But to play devil's advocate, at a recent conference on mergers, the private equity investors assured the