The CEO Forum: The Ultimate CEOs: Peter A. Darbee
Chairman, President, and CEO, PG&E Corp.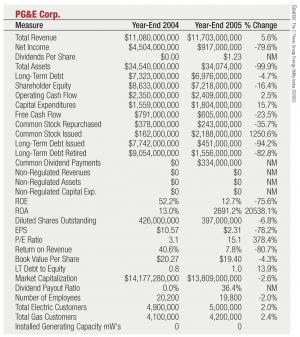 requirement of 20 percent by 2010, and we are moving aggressively to meet those targets.
Fortnightly: In the coming years, do you worry that state mandates, delivering billions in renewables and scrubbers and new power plants through the rate base, might start to increase and the state may again call for competition as a result? Do you worry about going through stranded cost, part 2?
Darbee: Our rates are about 13 cents/kWh and about 9-plus cents is generation. The way generation is being procured to date is through a competitive process. So, competition has been introduced in what is the substantial majority of our rate component; power is procured through competitive bids.
Competition has been introduced. I don't see what further could be done to bring down the cost of that generation other than, as we look forward, [to build] nuclear and coal [generation]. The question policymakers and the public will have to ask is if nuclear is done out of state and IGCC is done out of state and it meets the requirements that are good for the environment, should we go ahead and do it? I think we should. I think it is the rational thing.
From the CEO standpoint, I think what's best for our customers is diversity of supply and, on top of that, trying to keep costs as low as possible. So, I am concerned about rates for our customers and for us to do everything we can to exercise pressure to keep them either slow in growth or moving down. In our company, I like to view myself as the strongest consumer advocate voice in the company.
Fortnightly: One of the reasons some states went to electric competition was over a concern that utilities were unable to determine when and where to build, due to lack of price signals. Given California's re-regulation, and despite its wholesale market, how will you make sure you do not overbuild and have to later raise rates?
Darbee: I might differ with your premise. I don't think a significant impetus for deregulation was that utilities didn't know how to build to meet the needs of the public. They did that pretty well, and they did it far better than leaving it to the competitive markets. What drove competition was a belief that competitive generation would provide power at lower cost than the big, stodgy, slow-moving utilities. I think the reality that many people have pointed out is they haven't seen those benefits. And that's why they are very disenchanted with the introduction of competitive markets in the electric utility industry.
Fortnightly: The majority of merger announcements to date have been long-distance, non-contiguous mergers. As a vertically integrated utility, do you believe there is a loss of efficiency from these mergers where savings from combined operations cannot be enjoyed as in a contiguous merger?
Darbee: Our studies have shown that if you acquire a company that's closer as opposed to further, the savings are not necessarily greater. But if you acquire something that is closer as opposed to further, the likelihood of