Pondering PJM's Energy Price Run-Up
Does inappropriate market power explain the increase during late 2005?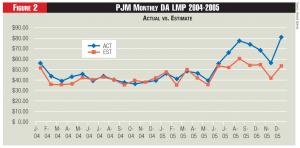 to rise relative to estimated DA LMP beginning in July 2005. This pattern holds through the end of the study period. December 2005 has by far the highest actual DA LMPs relative to estimated DA LMPs for any month in the study period. Again, since some states have been conducting auctions during the last half of 2005, the above result is very troubling for consumers if it is an indicator of the inappropriate exercise of market power.
Before proceeding to analytical details, a short discussion of institutional constraints is in order. Some may object to this attempt to push forward with analysis that is admittedly institutionally challenged. In response, note that this is the only recourse available to independent analysts of organized markets. Market advocates claim that, to protect the ability of markets to function, PJM and other RTOs must closely guard key data and information. This necessitates a tradeoff between the often conflicting goals of allowing markets to work on the one hand and instilling confidence that they are working correctly on the other.
An Inexplicable Price Run-Up
Figure 1 shows the problem. Beginning in June 2005, PJM DA LMP begins a precipitous rise to almost $80/MWh from levels about half that for much of 2004. Corresponding prices for January and February 2006 are $50.54/MWh and $53.42/MWh, respectively. Real-time locational marginal prices exhibit a similar pattern. Figure 2 adds estimated DA LMP values as calculated in this study. As noted, one month after actual DA LMP prices began their climb, actual DA LMP begins to systematically exceed its estimate. These prices are arithmetic averages across all hours; load weighting would increase all reported values.
At this point, the reaction to this price run-up pretty much can be predicted by who is doing the reacting. Competition advocates, generators, and some regulators who have supported industry restructuring designate hot weather and fuel prices as the primary causes of the observed prices. On the other hand, load interests, consumer advocates, and regulators who have been critical of industry restructuring complain that markets simply do not and cannot work, and that extraordinary relief must be forthcoming.
Is one camp more right than the other? Is there any information and data available for independent analysis that can shed any light on this important question?
A Mystery: Who's on the Margin?
In the fall of 2005, at the request of the Virginia State Corp. Commission staff, PJM posted marginal fuel-type data on its Web site for each hour of 2004. Monthly files contain data on the fuel types of the marginal ( i.e., the last and most expensive offered) generation unit selected to meet load in any particular hour. Each hour is divided into 12 five-minute intervals. When there is no congestion on the PJM system for an entire hour, a single fuel-type is marginal for the entire hour. If there is no congestion but the marginal unit changes during the hour and the latter unit is fueled from a different fuel-type, two different values are reported for the hour based on how many five-minute intervals