Will Calpine's "Plan B" Restructuring Work?
The resource overbuild in the West complicates the company's efforts.
ERCOT and those in the Northeast are in a faster track for recovery due to retirements, mothballing, and load growth.
As Calpine works on restructuring, this goal of selling non-core, non-strategic power plants and refocusing on power generation in markets where they can compete is a very different strategy than Peter Cartwright's game plan of building a clean, mostly combined-cycle and efficient fleet spread all over the country. The Cartwright strategy obviously targeted the economies of scale and relied upon geographic diversification to mitigate risk.
However, Calpine is disadvantaged by having a gas-fired-only portfolio (except geothermal). Although geographic diversification helps to smooth out regional resource problems in time, natural-gas price spikes put Calpine at a significant cost disadvantage against other fuels. Based on our valuation, average coal-fired asset value has gone up by almost 30 percent in the last year, from $804/kW to $1,030/kW. This is driven primarily by higher gas prices. A more balanced asset portfolio ( e.g., that of NRG) would benefit from the additional cash generated by the coal side of the business.
Bailing Out of Dixie, Northeast, and Midwest?
We should not be surprised to see the closure of Calpine's office in Atlanta, where it operates about 7,000 MW of power. This is a tough market because of the traditional dominance of big investor-owned utilities, and it is the most overbuilt with merchant generation. But there likely are some affordable assets for utility shoppers or niche merchant players that can use them to improve their portfolio.
Southeast markets remain depressed, and merchant assets located in these markets hardly run at all. Several of Calpine's assets such as Pine Bluff, Acadia, Santa Rosa, and Hog Bayou are located in these markets that generate very little cash for the company. Even worse, these assets further are suppressed by elevated gas prices, and utilities all over the country actively are looking for other cheaper fuel resources such as coal or renewables. This makes it harder for merchant assets such as Calpine's to market and sell output.
Calpine also announced a funding cut for some of the Northeastern assets including Dighton, Rumford, Tiverton, Parlin, and Newark. The Androscogin (ME) project in which Calpine has a 32 percent share already was in bankruptcy before Calpine filed. This looks like an exit strategy from Northeast markets where they do not have any significant presence or solid contract revenues.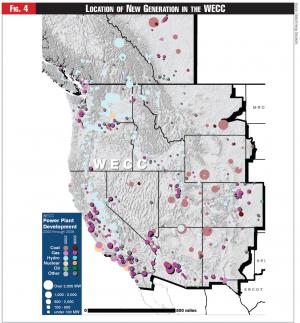 Similarly, they are cutting funds for Fox Energy Center, which is a project finance deal in Wisconsin. New fund commitment would be needed for the second phase of this project.
The Search for Revenue
Figure 2 illustrates Global Energy's estimates for Calpine's revenues coming from merchant energy sales and contracts. It is clearly seen that contract revenues from 2005 through 2007 are depressed compared with the overall revenues.
Assuming gas prices will moderate starting in 2008 and 2009, Global Energy expects cash flows from contracts will improve, driven by recovery of DWR contract revenues. If the gas prices stay elevated, this recovery may not happen.
A Big Bet on the WECC
The Western Electricity Coordinating