The Trouble with Risk Measures
Companies should adopt a far more robust metric.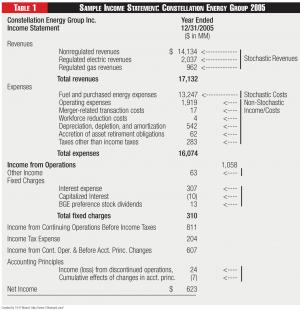 as operational risks embedded in the business ( e.g., forced outages in generation plants).
• Specific period covers the reporting horizon, or a business cycle. Typically one to five years.
• Confidence levels capture the majority of the outcomes and typically are set at 95 or 99 percent.

The term "earnings" has no well-accepted standard definition as to what is included from a company's income statement. It could be gross revenues, income from operations, or even net income. "Profit" is another common term without an industry standard definition. Earnings-based risk measures should be labeled in a way that is consistent with financial reporting.
Table 1 provides a good example of an income statement for a large energy merchant. Constellation Energy reports a number of operating revenues and expenses. Some of these revenue and expense categories are considered market- risk sensitive or, "stochastic" with respect to market prices, while others are not.
EaR models consider the distribution of potential market prices that would generate the stochastic revenue and expense items across the reporting period. However, EaR by itself is difficult to interpret. If a company were simply to report its EaR was $350 million, investors would not know what that means. However, if a company were to report that it expected its business would generate income from operations of $1,100 million next year and its EaR 95% around that forecast was $350 million, then an analyst could understand the expected operating income and the uncertainty around that forecast.

Earnings-based risk metrics need to be measured against a specific earnings number. Therefore, the appropriate non-stochastic revenues and costs must be added into the metric to generate one of the common earnings metrics used in business today:
• Income from Operations;
• Earnings Before Interest, Taxes, Depreciation, and Amortization (EBITDA);
• Earnings Before Interest and Taxes (EBIT); or
• Net Income.
Management should decide which earnings metric is most used by the organization's stakeholders, and the related risk metric should be reported with it:
• OpINC@R – based on operating income;
• EBITDA@R – based on EBITDA;
• EBIT@R – based on EBIT; or
• NI@R - based on net income.
Cash Flow at Risk
Cash flow at risk (CFaR) resembles EaR in many ways. It relies on the same time series estimates of prices, assets, customer load, and derivative instrument pay-offs. However, CFaR focuses on the actual cash flows that occur during the process, while EaR follows the earnings recognition rules of the relevant accounting methods used. Many of the components that make up the standard earnings functions ( e.g., MtM, depreciation, amortization, etc.) are treated differently for CFaR.
For example, derivative traders are subject to MtM accounting record changes in their portfolio's value each month prior to settlement. For the purposes of CFaR, all transaction gains or losses are accumulated and reported as part of this calculation. No interim changes in value are accumulated and reported as part of this calculation. Furthermore, a robust CFaR metric would include cap-ex, corporate borrowing changes, and capital structure changes to track the risk on