Electricity in Europe And North America: The Grand Experiment
Has restructuring succeeded on either continent?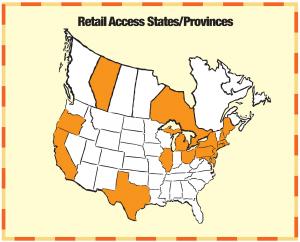 of their national legislatures, to implement retail choice and open access. State and provincial authorities also control sales of generation and delivery system assets, and retain a significant role in mergers and acquisitions. Europe and North America both suffer from various congestion points and also have points of integration that are more a function of geography than of national boundaries. For example, the Canadian and U.S. electric markets actually are more integrated on a north-south cross-border basis than on an east-west national basis. 2
In North America, states and provinces accounting for just about half of all electricity consumption have adopted retail open-access policies whereas a decade ago, there was virtually no retail access. Similarly, whereas two decades ago about 90 percent of all generation was produced by plants owned and operated by classic vertically integrated utilities (with the other 10 percent accounted for by government entities), today that figure is closer to 60 percent. Nearly 30 percent of all U.S. generation comes from non-utility power plants. 3
The question on the table is not whether there will be competitive markets in electricity, but to what extent and for how long the new paradigm and the old regime will co-exist. Hence, a grand experiment.
Ten Tests in the Grand Experiment
The era of polemics about competition in electricity industry is nearly over. We have passed through ridicule and violent opposition—the first two of Schopenhauer's three stages of truth. But we are short of the third: Acceptance by all as obvious. The old, shared certainties have been shattered and the time has come to compare the relative performance of competition and of traditional regulation as these two established models operate side-by-side. 4
In the interest of symmetry with the original "Ten Point Plan," we suggest 10 tests as the grand experiment proceeds. The measures are, at this point, merely suggestive. They are, however, intended to be quantifiable and devoid of bias, providing a reliable basis for comparing the relative performance of the new paradigm and old regime. 5
1) Power Plant Operating Efficiency
Which system will produce kilowatt-hours more reliably at the lowest incremental and all-in costs? Will there be different incentives and conditions affecting choices of power-plant types, staffing decisions, fuel contracting, and operating practices?  6
2) Attraction of Investment Capital
Which system can better create an environment in which financing can be secured for new generation additions? Large amounts of new generation were added in the later 1990s in response to the first open-access laws in such states as Illinois. Those additions produced reserve margins that, until recently, deferred talk of the need for new capacity. With wires companies remaining under more traditional rate regulation even under open-access conditions, which system will better provide for raising capital for power plants?
3) Curtailing Demand
Which regime can better address the perennial issue of improving customer load factors? Which can better apply such methods as real-time pricing, voluntary and involuntary interruption, and appeals to social responsibility? Which system can do the better job of encouraging end-use customers to reduce peak demand or to