PJM Addresses Local Supply Issues
Electric shortages and the generation overbuild continue to co-exist.
stakeholders for a long time, but reaching consensus has proven to be very hard due to the number of interests involved.
Hundreds of follow-up filings have been made with FERC, and many utility commissions, ratepayer associations, and major utilities have expressed concerns regarding the proposed RPM design. PJM originally had requested FERC's approval of its RPM proposal by Jan. 31, 2006, and scheduled implementation on June 1, 2006. Yet, the lack of agreement regarding some of the major design issues of RPM has prevented FERC from making any decision on the RPM according to this tight schedule. Protests have raised a wide variety of concerns ranging from disputing the need for a locational market and whether the current ICAP paradigm is really defunct, to the cost of new entry and the methodology for defining the demand curves. Proponents continued to stress the need for RPM to stimulate new power-plant construction, while opponents argued among other things that RPM would result in extremely higher rates and do little to cause new construction.
FERC responded on April 20, 2006, with a paper hearing on PJM's RPM filing indicating its overall agreement about the need to revise the current capacity market rules. On the other hand, FERC specified some areas that required further clarifications or modifications. After four months of discussions and negotiations among stakeholders, PJM filed a settlement agreement with FERC on Sept. 29, 2006. The major changes included in the settlement filing were a lower value for capacity in the RPM demand curve and a three-year forward auction schedule for acquiring ICAP requirements, rather than the originally proposed four-year horizon. Further, the settlement agreement removes the seasonal aspect of the RPM, proposed a year earlier, and proposes annual clearing of capacity prices. 1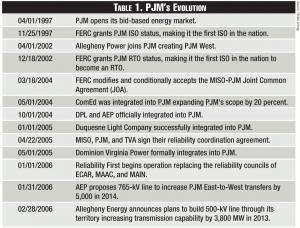 The September settlement filing—conditionally approved by FERC on Dec. 22, 2006—has not marked the end of controversy over the RPM as anticipated by PJM and the appointed administrative judge. In January 2007, several industrial consumers announced their withdrawal from the settlement agreement prompted by FERC's decision to impose additional conditions that they argued would add more risk to consumers without any benefits. Some of the conditions imposed by FERC include:
• Modifying the provisions that discriminate between signatories and non-signatories;
• Expediting cost recovery for more resources incurred for compliance with state-mandated requirements; and
• Limiting the amount of discretion granted to the RTO market monitor.
The additional conditions are seen by industrial customer groups largely as benefiting generation owners rather than reducing costs to customers or improving reliability for the region. Also of concern is that the conditions will relax market monitoring and market-power mitigation when evidence of market manipulation has been confirmed in the past.
On Jan. 22, 2007, PJM filed changes to its tariff and reliability assurance agreement in compliance with FERC's December order. These changes will become effective along with the rest of the RPM on June 1, 2007. The first auction is expected in April 2007 for the 2007-2008 delivery year.
The Reliability Pricing Model
The RPM is a capacity market design through which LSEs