Carbon Costs: The Coming Battle
Where are prices going, and where have they been?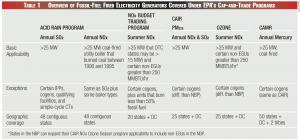 mandatory GHG regulation that does not hurt the U.S. economy and encourages similar action by developing nations. But those are high hurdles.
Some of these proposals are mirrored in the House. Rep. Wayne Gilchrest, R-Md., and John Olver, D-Mass., introduced a companion bill to McCain and Lieberman's Climate Stewardship and Innovation Act with an equivalent declining cap, resulting in a 70 percent cut from 1990 emission levels by 2050. Rep. Henry Waxman, D-Calif., sponsored the most recent legislation to be reintroduced, the Safe Climate Act, calling for an 80 percent cut in greenhouse-gas emissions by 2050. It is similar to legislation introduced by Sen. Sanders. The bill has 125 co-sponsors.
Republicans on the Senate Environment and Public Works Committee remain either skeptical or at least very cautious of restricting emissions from the entire U.S. economy. Such a closely divided committee vote would not bode well for cap supporters to get the 60 votes needed to avoid a filibuster on the floor of the Senate.
There appears to be some room to bring a few Republicans on board. The bulk of their questioning of Gore focused on the role of nuclear energy in a carbon-constrained world, suggesting that more government support for nuclear generation could give them some reason to support legislation. And incentives for clean-coal generation that uses carbon capture and sequestration would go a long way toward satisfying coal-state lawmakers from both parties.
The cost of any program will depend on how quickly technology advances. Switching to lower-emitting fuels such as gas has been the primary method of compliance in Europe so far, but supply is limited. An MIT analysis has found that bills being considered by Congress that specify GHG emissions reductions of 50 to 80 percent below 1990 levels by 2050 would result in prices between $30 to $50 per metric tonne CO 2 equivalent, with prices increasing by a factor of four by 2050. If allowances were auctioned, these proposals could produce $100 billion to $500 billion in annual revenue.
Another group of proposals establishes targets for constraining emissions intensity and sets a schedule for safety valve limits on the emission price to stabilize U.S. emissions at the 2008 level. Emissions prices range from $7 to $40, depending on how many allowances are freely distributed.
Nascent Technology
GHG-capture technology only now is emerging and has not been developed to commercial standards. AEP just announced the first commercial application of carbon-capture and storage (CCS) technology, using Alstom's chilled-ammonia process. But the gas must be stored permanently, an as yet unproven technology. MIT said that CCS would be economic if carbon is priced at $30/metric tonne CO 2 equivalent or higher. Another option for CO 2 removal is an amine scrubber. The costs for that technology have come down from $70 to between $40 and $50 per ton of CO 2 removed, while the chilled-ammonia-method removal costs will be about one third of those of the amine scrubber.
While the development and implementation of a U.S. carbon market will take time as proposals meander through the political and public processes,