Infrastructure Development: Avoiding the Next Debacle
How to ensure another Chunnel, WPPS, or Big Dig doesn't happen to you.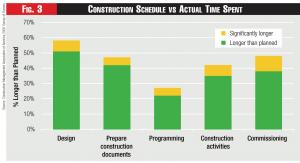 the cost overrun ratio for coal plants ranged between 1.43:1 to 1.69:1, averaged 1.6:1 and generally declined over five years. Nuclear plant construction times ranged from 5.8 to 7.8 years and, unlike examples of costs quadrupling, experienced actual-to-projected cost ratios ranging from 1.37:1 to 2.15:1, with an average of 1.78:1. The nuclear plants' average construction costs-per-kilowatt of capacity increased 57 percent to $340/kW during the five years, while the coal plants' average cost rose 31 percent to $222/kW.
The Mitre analysis identified several factors among the reasons for increases in the ratios of actual to projected costs during that period, including:
• Inadequate data base and insufficient engineering studies for early nuclear power-plant cost estimates;
• Inflationary pressures not present in the '60s and, hence, not accounted for in early projections;
• Underestimation of construction manpower costs, especially for nuclear plants;
• Construction delays and additional equipment introduced by environmental and safety regulations; and
• Unforeseen problems in going to larger plant sizes.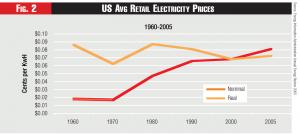 Three years later, a RAND Corp. study put energy plants into the context of the challenges facing all major projects at that time. It found that actual costs for energy projects typically were more than 250 percent of estimates. Major construction projects followed at 218 percent of estimates; 1960s weapons systems were delivered at 140 percent of projected costs, and highway projects came closest to budget at 126 percent.
The RAND analysis found that the reliability of the estimates studied primarily was influenced by:
• How well the project was defined;
• Whether new techniques were to be employed; and
• The purpose of the estimate—cost-plus defense contract bids often were 20 percent to 50 percent below the bidder's own best internal estimate of costs.
It also identified four factors as having the largest influence on actual cost outcomes:
• Externally imposed scope changes and repeated design changes;
• Deviations from an appropriate construction schedule;
• Management and organization deficiencies, magnified by fragmented or unclear management responsibility; and
• Outside factors such as regulation and unanticipated inflation.
The lessons of the '70s point in the right direction for the coming electric power-plant build. However, despite several decades of development in project management tools and strategies, the majority of projects initiated by organizations of all kinds are completed late or over budget, are not completed at all, or are completed but fail to fill the original business requirements.
As Public Utilities Fortnightly reported in its May 2007 issue, cost estimates for individual non-nuclear projects have doubled or more between initial estimate and construction approval.
But projects are not missing targets only in the electric-power industry. In the Construction Management Association of America's 2005 survey, project owners reported that construction projects were taking between 27 percent and 57 percent longer than planned in design, documentation, programming construction, and commissioning.
Employing Effective Risk Management
By their nature, projects are "one of a kind." Lessons from the '70s and experience since then clearly show that the root causes of late or over-budget project deliveries or catastrophes are in how an organization performs project