Nuclear vs. IGCC
Next-gen technologies race to dominate the big build.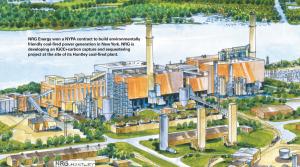 have risen. That's the number-one driver for new nuclear power in the United States."
Environmental factors also are impeding coal's progress. Virtually every major pulverized-coal fired power project faces public opposition on environmental grounds, and these concerns have driven some project sponsors—including FPL, TXU, Duke, and Sempra—to scale back or cancel plans to build new pulverized-coal plants. Further, uncertainties about future carbon regulation have increased risks and costs for new coal-fired projects.
"With the last 18 months of discussions around global warming, coal has become more of a challenge," says Jim Suciu, president of global sales for GE Energy. "A lot of people are having difficulty permitting coal plants, and coal will see more carbon pressure. Nuclear doesn't have that element."
Technology companies are working to develop back-end carbon-capture systems for pulverized-coal boilers, but the process of research, development, and commercialization has only just begun. IGCC offers well-proven options for extracting carbon-dioxide from gasified coal before it is burned, and geologic sequestering appears to be a feasible option in some locations.
"Being as rational as possible about carbon removal, we found there is a huge cost advantage for pre-combustion technology," says Lee Davis, a vice president with NRG Energy, which is developing a 680-MW IGCC project in Western New York that will include carbon-capture and sequestration systems. "Post-combustion technology has a role to play, but from an efficiency and cost point of view, IGCC and pre-combustion technology wins, hands down."
Specifically, a recent National Energy Technology Laboratory study estimates IGCC+CCS (carbon capture and sequestration) facilities will cost about 13 percent less to build than PC+CCS, and will generate electricity 9 percent cheaper. 1 (Without CCS in the equation, most analysts expect IGCC will be about 15 to 20 percent more costly to build than supercritical PC plants.)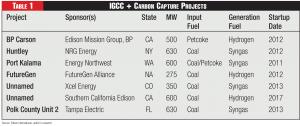 The idea of sequestering carbon on an industrial scale, however, still is being studied, leaving coal burners with waste-disposal uncertainties that vaguely resemble the nuclear industry's spent-fuel management problem.
"In many respects, the challenges of building climate-friendly coal plants and nuclear plants today are pretty similar," Suciu says. "They both have regulatory risks and cost uncertainties, and they will both need a regulatory environment where cost-recovery is allowed during construction."
In the long run, neither technology may prove to be more successful than the other at overcoming those challenges and reaching the finish line. In the meantime, power companies planning the next generation of base-load power capacity are facing the full spectrum of challenges, one project proposal at a time.
Gasification Two-Step
Gasification is alive and well. It's just not living around here.
That's not exactly true, of course. Several utilities and independent power companies are developing IGCC power projects in the United States, with interesting announcements recently from Southern California Edison and TXU's private-equity suitors. The biggest drivers for new gasifiers, however, are not found in electric-power markets, but in industrial-chemicals and fuels markets.
"Molecules are worth more than electrons," says Phil Amick, director of commercialization for ConocoPhillips' E-Gas technology. "Electric-power generation will be the big market at the end of the day. But