Advanced Metering Infrastructure Special Report: A Planning Guide for AMI
How to manage the metering selection process.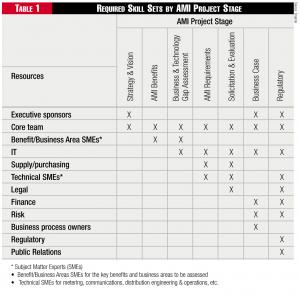 people at the core, with other subject matter experts engaged as the project progress throughout its phases. Table 1 summarizes the resource expertise required by project phase. Most subject matter experts are ad hoc resources that remain in their "day jobs" while also handling the needs of the AMI initiative. Careful scheduling of ad hoc resource availability is paramount to ensuring a smooth process. Yet, be prepared for internal and external influences to affect priorities and work demands; plan for the inevitable with contingencies.
What is the role of consultants? On the positive side, augmenting your team with outside experience can accelerate the process greatly, keep the team up to date on market and technology developments, share experiences from other utilities, provide a proven evaluation and price solicitation methodology, and bring specific subject matter expertise to the table. On the negative side, this experience, methodology, and expertise is not free. What's more, outside consultants may be unfamiliar with your company's internal practices, and may bring their own biases based on past projects. If you choose not to use consultants, create a way for the team to get current (and stay current) on evolving industry and technology developments and trends, and feed this learning back into the project.
Rigorously Identify AMI Benefits
Recognize that AMI can lead you in many directions—into your customer's home-or premise-via load control and demand response in one direction, and further into the distribution network with smart grid in the other. This complexity can overwhelm the process and lead to confusion, delays, and even project abandonment. Tangible, quantifiable benefits are the means by which the AMI team can explain how, and by how much, the AMI system will benefit the organization, and what problems the AMI system will solve. It also is the language and the primary means by which AMI requirements are developed, debated, and defended throughout the selection process and beyond.
One strategy is to engage the multi-disciplinary AMI team to identify, quantify, and benchmark potential AMI benefits. Recognize too that some "soft"
benefits may be important, but difficult to quantify, such as environment impacts. Use a consultant with prior experience, gather information from regulatory proceedings, and exchange information with non-competitive utilities. Use visioning to develop views of what AMI could bring. Focus on the potential benefits that align with the formulated strategy and deliver the highest value.
Create a Business-Case Framework
The business case development process is not neat, clean, or linear. It is a difficult process requiring that an eventual strong internal consensus emerge among team members about a multitude of frequently competing objectives and issues.
The business-case framework becomes a flexible document that contains all the relevant evaluation information. The benefits assessment is included, and, done rigorously, will recognize differences between strategic and operational benefits and will take into account the beneficiaries: utility shareholders, rate payers, and society. Create a "to-be," AMI-enabled vision of your business. Use this vision to identify business and technology gaps with respect to today's "as-is" organization. These gaps help hone the benefits, but also provide the basis for the