When the Price Is Right
How to measure hedging effectiveness and regulatory policy.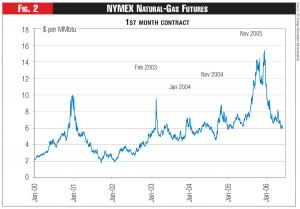 Hedging is wholesome and good—just like apple pie. Unfortunately, while the concept of apple pie is difficult to fault, some apple pies can be pretty repulsive.
Consequently, while regulators generally are receptive to hedging, nobody is writing a blank check merely on a promise to do good things. Like CFOs, regulators must have confidence that a service provider's business processes deploy the proper amount of "volatility insurance" at reasonable prices. Further, such processes must be sufficiently responsive to properly tune that price insurance as market conditions evolve.
So the regulatory standard is not always entirely clear, in part because hedging effectiveness is a business process issue as much as it's a performance metric issue. Some jurisdictions have no policy. Others don't object to hedging but reserve the option to review effectiveness under a general prudence standard.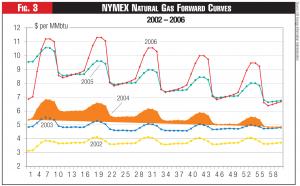 Before considering regulator's reviews, let's take a quick look at natural-gas price market dynamics to see how current events may be fueling the policy debate.
Natural-Gas Price Dynamics
Hedging programs evolved in response to natural-gas price dynamics and seek to dampen price volatility. These dynamics reflect the combined effects of industry fundamentals and seasonal drivers.
To make matters worse, long-term industry fundamentals are not balanced. U.S. natural-gas production peaked in 2001 and is in decline. Yet demand for natural-gas-fired electric generation has grown more than 30 percent over that same period. Average wellhead prices roughly have tripled.
The current decade's rise in natural-gas prices and volatility is particularly noticeable in the forward curves. We see rising prices and volatility year after year.
While demand has grown some 25 percent over the past decade, U.S. storage capacity barely has budged, increasing about a tenth as much. Thus the U.S. natural-gas supply chain is a "stiffer" system today and generally less capable of dampening perturbations.
A stiffer supply chain is more vulnerable to perturbations and more likely to respond with spikes and harmonics. A stiffer supply chain also tends to attract speculative trading practices. When taken to excessive levels, the supply chain can generate sudden, reasonable or unwarranted price changes with a reinforcing or "positive feedback" effect on price levels and volatility. The winter 2005-2006 price spikes most often associated with Hurricane Katrina's disruptions are very evident in natural-gas price history.
Recalling its investigation of the winter 2005-2006 price spikes and Amaranth's role in price volatility, the U.S. Senate Permanent Subcommittee on Investigations recently concluded "the increasing amount of financial speculation in energy markets has contributed to the steep rise in energy prices over the past few years." 1
The subcommittee further concluded that "Amaranth's excessive speculation in natural-gas futures played a central role [in the unusually high prices and large differences between the winter and summer prices in 2006]." 2 Companies that stayed too long in the futures market during this period generally paid more for winter gas. The subcommittee observed many of these costs were passed on to consumers.
Clearly, a hedging program mindful of market fundamentals would have been better equipped to cover its supply requirements through other markets. For example, as Amaranth bid up