Letters to the Editor
To the Editor: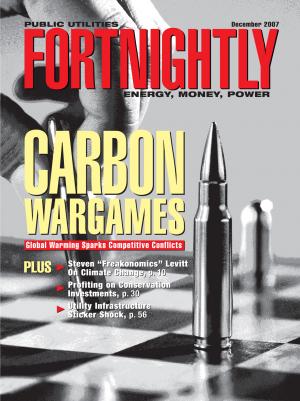 These comments are prompted by Editor-in-Chief Michael T. Burr's discussion of a regulator's "goodness" in the November 2007 issue of Public Utilities Fortnightly (" Creating the Perfect Regulator ") and related aspects of other articles. I deem the quality (fairness) of regulation to be of considerable importance, because fairness is a leading indicator of the business climate. I am aware that large energy users pay attention to this indicator of the business climate when evaluating sites for new facilities or expansion of existing facilities, because I have helped some to do so.
Burr identifies four fundamental goodness traits: omniscience, Solomonic wisdom, clairvoyance and righteousness. Inherent in these traits, but not specifically addressed by Burr, is the ability to recognize and reject advice from those interested in telling the regulator what the advisors think the regulator wants to hear instead of what the regulator should hear. I view this ability as a necessary aspect of high-quality regulation. However, successfully exercising such an ability would require that politics be eliminated from the regulatory process—something I judge to be impossible.
I view politics as being an Achilles' heel responsible for price regulation being unsuccessful in the United States. I do not like price regulation, but know of no substitute, and the lack of success of proposed substitutes in recent years demonstrates that no one else does either. The comment by Sean Casten in his November 2007 article, " Deregulation, Phase II ," that prices "illustrate that restructuring was poorly designed and badly executed, and it focused on the wrong part of the grid" suggests that my assessment is not unique.
In his discussion of clairvoyance, Burr says two Oklahoma commissioners "foresaw pointed questions about the lack of a competitive solicitation, or indeed any serious consideration of options aside from gas- or coal-fired power capacity" in the state PUC's recent rejection of a proposed coal-fired generating unit. It is my understanding that the rejected unit was a consequence of a solicitation of bids for power by one of its proposed owners, which raises a question about the validity of the assertion concerning the lack of a competitive solicitation.
How a regulatory body treats depreciation accounting provides a unique window into fairness, because the initial impact on ratepayers of any depreciation change reverses in the long term and it does not take long to reach the tipping point. Therefore, looking at depreciation is a convenient way to discern whether regulators stress the short term or the long term in their decision-making. The reversal of the ratepayer impact is a consequence of depreciation expenses being a positive component of revenue requirements and of the accumulation of depreciation expenses in the book reserve being a negative component (return and related income taxes). In the long term, the cumulative negative component overwhelms the annual positive component. The allowed equity rates of return shown by the rate case survey,  "Annual ROE Survey: Capitalizing On Grid Concerns ," on pp. 44-46 of the November 2007 issue suggest that the depreciation impact reversal currently takes about 10 years. Electric-