Sticker Shock!
Increasing prices for materials, equipment and services are driving utility infrastructure costs into uncharted territory.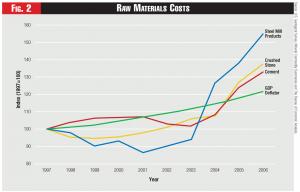 January 2004 and January 2007, with increases during 2006 alone of 28 percent and 23 percent. 5
These rapid cost increases have raised the price of recently completed infrastructure projects. To the extent services and materials were acquired before the most recent inflationary trends, the effect has been mitigated somewhat. Rising prices have a more dramatic effect on the estimated cost of proposed projects, which fully include the recent price trends (see sidebar, "Ballooning Project Costs").
As a result, utilities and regulators increasingly are worried the next wave of utility investments might cause rates to increase significantly. Rising construction costs and recent increases in wholesale power prices have motivated industry participants to more actively pursue energy-efficiency and demand-response initiatives, to reduce future consumer-rate increases. Nevertheless, economic growth and the need to replace aging infrastructure will necessitate major new investments during the next two decades.
According to EIA's most recent projections, U.S. electricity sales are expected to grow by about 1.4 percent each year through 2030, and the North American Electric Reliability Corp. (NERC) forecasts peak demand will grow by 19 percent, or 141 GW, from 2006 through 2015. EIA predicts power companies will need to build 258 GW of new generating capacity by 2030 to meet demand growth and replace plants that will be retired.
Likewise, the high-voltage transmission grid requires significant investment. After a long period of decline, transmission investment began a significant upward trend starting in the year 2000. Since then, the industry has invested more than $37.8 billion in the nation's transmission system, and a recent Edison Electric Institute (EEI) survey suggests its members plan to invest $31.5 billion in the transmission system from 2006 to 2009. NERC anticipates nearly 13,000 miles of new transmission will be added by 2015, an increase of 6.1 percent in the total miles of installed extra high-voltage (EHV) transmission lines (230 kV and above) in North America between 2006 and 2015.
Similarly, distribution-system investments began rising in the mid-1990s, preceding the corresponding boom in generation, and the flow of distribution investments shows no sign of diminishing. In 2006, utilities invested more than $17 billion to upgrade and expand distribution systems, a 32 percent increase over investments in 2004. EEI estimates distribution investment during 2007 will again exceed $17.0 billion.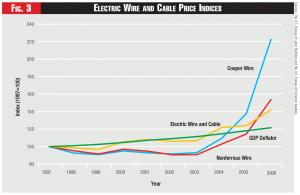 While much of the recent increase in distribution investment reflects expanding physical infrastructure, a substantial portion of this investment reflects the increased input costs of materials and labor. Cost estimates likely will increase further if market trends persist.
Weighing the Costs
Using commercially available databases and other sources, such as financial reports, press releases and government documents, the Brattle Group collected data on installation costs for natural-gas-fired combined-cycle generating plants brought into service in the United States between 2000 and 2006, and found the average real construction cost was approximately $550/kW in 2006 dollars, with a range of costs between $400/kW and about $1,000/kW. Statistical analysis confirmed real installation cost was influenced by plant size, the turbine technology, the NERC region in which the plant was located, and the commercial online date.
Notably, the