Vintage, Voltage or Votes
AEP rekindles debate over grid pricing, but should the outcome hinge on majority rule?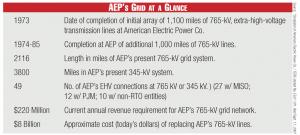 of orders implementing that region's RECB program ("Regional Expansion Criteria and Benefits"), FERC also has approved a smaller 20-percent dollop of postage-stamp pricing for certain newly built lines that are 345 kV or greater. The first case (RECB-I) applies to projects built to meet reliability needs (see RECB-I, Docket ER06-18, Feb. 3, 2006, 114 FERC ¶61,106, on rehearing and clarification Nov. 29, 2006, March 15, 2007).
The second case governs economic projects to facilitate sales of lower-cost generation. (See, RECB-II, Docket ER06-18, March 15, 2007, 118 FERC ¶61,209, rehearing July 23, 2007.)
Nevertheless, these new pricing experiments for newly planned and built lines offer no help to AEP in recovering the embedded costs of its extensive existing EHV grid network, which includes a large array of 765-kV lines largely planned and built back in the 1960s, '70s, and '80s. Recovering those costs entirely from AEP native load would impose an enormous burden on the company's ratepayers. And, after all the adverse FERC rulings, AEP's day in court, it would seem, had come and gone.
Then in late summer came a new development that rekindled the entire debate. It gave a second wind to AEP and its relentless quest for fairness in regional transmission pricing design.
Path of Least Resistance
The origin for this second wind was the so-called "cross border" case. That's the case in which FERC several years earlier (in November 2004) had asked both MISO and PJM to explain, irrespective of each region's current grid-pricing rules, how they would propose to allocate costs and set transmission rates for new cross-border projects. Such investments would include new grid expansion projects that would straddle both regions: Those projects planned and built to capture significant benefits across the entire combined, MISO/PJM "super-regional" footprint.
Importantly, these new cross-border rules would apply after the close of a transition period during which FERC had worked to eliminate transmission-rate pancaking for transactions running between MISO and PJM, or into and out of the region. By first eliminating the so-called "through-and-out" grid charges, and then adopting a surcharge (known as "SECA") to soften the blow during a temporary transition period, FERC had pushed the industry toward a fully integrated and eventually seamless super-regional combined MISO-PJM market.
Thus, a key feature of this cross-border pricing investigation was for MISO and PJM to fashion new pricing rules that could prosper within the new vision. FERC urged MISO and PJM to convene extensive stakeholder conferences, and to report back by a deadline of Aug. 1, 2007, to propose "post-transition" rules that would take effect on Feb. 1, 2008.
Nevertheless, when it came time to submit their joint, post-transitional cross-border scheme, MISO and PJM offered nothing new. In the specifics, they chose not to file any sort of proposed tariff at all. Suggesting that their respective members were exhausted by too many late-night stakeholder sessions, MISO and PJM told FERC they would simply fall back on their existing tariff arrangements, a regime that now is being called the IRPD, or "Independent RTO Pricing Design." In reality, the IRPD was nothing but old