The Wonderful Curse
Production constraints and demand pressures mean high gas prices are here to stay.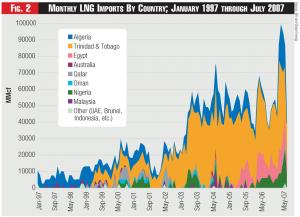 prices by the end of the decade.
In addition, pipeline imports from Canada are expected to continue declining due to their increased domestic demand and supply moderation ( i.e., disappointing production in the North Atlantic/Canada Basin). Therefore, the days of $2 or $3 gas, as the market experienced during the supply glut of the 1990s, are long gone. However, the 1.8 Bcf/day Rockies Express Pipeline is scheduled to go into service January 2008, relieving the congestion of relatively inexpensive Rocky Mountain gas and allowing flows from Colorado and Wyoming eastward to Illinois, Ohio and western Pennsylvania. Of course, basis differentials will change markedly.
Following the NYMEX forward curve, Henry Hub natural-gas prices for 2008 likely will average $7.99/MMBtu, compared with $8.07 in the previous Global Energy natural-gas reference case (down $0.08 and 1 percent). For 2009, the Henry Hub price is expected to be $8.00/MMBtu (up $0.73 and 10 percent). However, overall the current reference-case view predicts just slightly to moderately higher gas prices than forecasted last spring, about 4.5 percent for the 25-year forecast period from 2008 to 2032. Forecasted gas prices do not sag as low following the high "prompt" years as previously forecast, reflecting the impact of greater costs from increasing percentages of gas from unconventional sources; greater perception of natural gas being "greener" than other options and thus able to contribute to global-warming solutions; and the reality of a continuing tight supply/demand situation in the United States.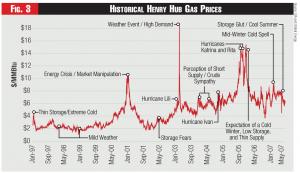 In the longer term, the landed price of LNG remains uncertain given the vagaries of the world market, available LNG supply, political unrest, and cartel formation; however, its cost of production is well understood and very attractive at today's market price. Other potential new supplies in North America (and the uncertainties associated with them) create additional uncertainty for the price of natural gas. Many of these factors can be quantified through stochastic volatility analysis.
Gas Goes Global
One conclusion from the analysis, which is possibly the most important point, is that increasing reliance on LNG will transform the continental gas market into a global gas market during the next 10 years. This is expected to affect market prices, industry financial performance, and capital deployment. For example, although LNG imports totaled just over 0.5 Tcf in 2006, by 2030 LNG likely will supply 8.4 Tcf of the total U.S. gas supply requirement of 32.7 Tcf, up more than 15-fold.
Another force already present is the massive buildup of gas-fired electric generation capacity of recent years. Since the late 1990s, more than 200,000 MW of new combined-cycle, gas-fired power plants have entered the North American markets. Thus far, the financial and operating performance of these plants has been disappointing as a result of the massive overbuild of capacity witnessed in many regions. During the next 10 years, capacity utilization of these plants is projected to grow by nearly 40 percent over present levels. Given these combined-cycle plants are operating already, and long lead times and other financing and permitting hurdles exist for building alternative resources such as coal or nuclear, gas-fuel demand