Nuclear Fuel Future
Nuclear power cost projections should incorporate fuel cost uncertainties.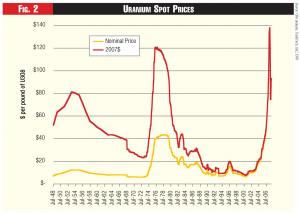 of two factors—low historical costs for nuclear fuel ( i.e., prior to recent price increases) and higher capacity factors. But in the future, market trends are expected to result in higher and more volatile nuclear fuel costs. 1
Global demand for nuclear fuel has grown as existing plants have undergone uprates to increase capacity and have had (or will have) plant-life extensions. This demand is expected to grow even more as a new wave of nuclear plants is built and placed into operation. While new nuclear plants will not be placed in operation until after 2016 in the United States, new nuclear plant development in Russia, China, Japan, and other countries will drive demand for nuclear fuel before then.
Excess uranium production for much of the last 20 years led to low nuclear fuel costs, but also led to chronic underinvestment in uranium mines. The nuclear industry has been using stockpiles of uranium built up prior to 1990, with production of uranium only at about 60 percent of demand in 2006 (see Figure 3) . The prices for other nuclear fuel components, including enrichment, conversion and fabrication, also have increased.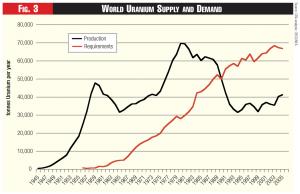 At some point, new uranium mines and new enrichment facilities will be needed to meet growing demand for uranium and enrichment services. The development of these new mines and enrichment facilities will take some time and will require significant capital investment. This investment will occur only if prices for uranium and enrichment are at or above long-run marginal costs, well above the costs over the last 20 years. Additionally, such investments may depend on long-term contracts that assure the mined fuel will have buyers.
Prices for uranium and other nuclear-fuel-cycle components likely will increase as excess supplies are depleted and the markets reach supply and demand equilibrium. The uranium spot market spike in 2007 is an early indicator of this new market dynamic.
It is also possible that nuclear fuel markets will reach equilibrium and return to relatively low and stable prices soon (as predicted in some projections for nuclear fuel cost).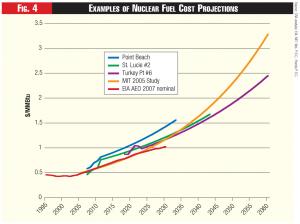 This uncertainty about future nuclear fuel prices makes it important to develop robust nuclear-fuel-cost scenarios.
Projecting Nuclear Fuel Costs
The typical approach to forecasting nuclear fuel costs involves using prices related to historical nuclear fuel costs, with near-term projections based on existing contracts, followed by escalation at inflation. Examples from publicly available documents and filings illustrate this approach (see Figure 4) . Specifically:
• A 2003 MIT study on the future of nuclear power 2 assumed nuclear fuel costs were $0.47 (in 2005 dollars) per MMBtu in 2005, and then escalated at 3.5 percent each year thereafter.
• In the Wisconsin Public Service Commission hearing on the sale of the Point Beach nuclear plant, testimony was filed that used five years of detailed forecasts (based on contracts), then escalated the last year of this detailed forecast by 3 percent. 3
• In the Florida Power & Light determination of need filing for new nuclear units at Turkey Point, Appendix E provided nuclear-fuel-cost projections for existing FP&L nuclear units and