Coming to America
U.S. utilities are gaining valuable lessons from technology developments abroad.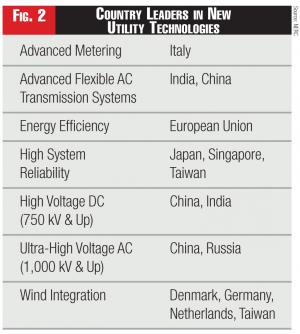 for about five years, ENEL's program has been emulated across Europe, which has leapfrogged AMI development in the United States, where the advanced-metering trend began. "Today, Europe is about two to three years ahead of the United States in smart metering," says Jeff Lund, vice president of network energy systems at Echelon Corp. in San Jose.
The Case for Isolation
In fact, some U.S. utilities are looking abroad for instances of technology deployments. ENEL's project, for example, helped Southern California Edison sell its 5-million meter AMI proposal to the California Public Utilities Commission. "The ENEL project was probably the most advanced in smart metering in the world at that time," says Rob Wilhite, KEMA's vice president of intelligent networks and communications.
But in general, utilities in the United States have not embraced new technologies being employed overseas. Their reticence is caused by a variety of factors, with both positive and negative implications for customers and shareholders. The primary limits to adoption include cost, testing, regulations and a lack of awareness.
Cost is the classic reason U.S. utilities have been slow to adopt new technologies, irrespective of whether utilities are using them overseas. "A lot of the new technology has been cost-prohibitive, but over the last few years, many costs have come down," says Hugh Bridgen, director of metering and technical services at Chatam-Kent Services, in Chatam, Ontario. "When we started looking at advanced metering, it would have cost $300 just for the meter itself, but now meters sell in the $100 range." C-K Hydro uses an AMI system developed by Tantalus of Burnaby, B.C., which has added to the 1 million smart meters now deployed in Ontario.
Hidden costs of electronic systems also can outweigh hardware and installation costs, making business cases elusive. "Costs for new AMI will not be dominated by installation, but rather by communications and integration costs," Lund says.
The need for field testing also delays implementation. Staged implementation programs that result from the need for field testing also can cause utilities to commit to technology that will be obsolete by the time it is installed. "With some newer technologies, there is a fair amount of uncertainty in terms of how well it will perform," says Wilhite.
And unlike the United States, where technology trends are driven more by industry priorities than government requirements, regulatory mandates in Canada, Asia and the European Union are a driving force behind smart grid initiatives. "The utility business cases for advanced metering in the European Union depend on energy savings, because of the mandate to reduce end-user energy bills and to reduce the carbon footprint," Lund says.
Energy efficiency is typically a crucial goal of such government mandates. "I have not seen the business cases for these technology adoptions work unless there is some form of energy reduction or peak demand shifting benefit," Wilhite says. "An operational benefit is not enough to justify the business case."
Another reason many U.S. utilities are slow to adopt new technologies is that traditional lines of departmental operation can limit cross-departmental project evolution. A customer service unit,