Storage Surge
New gas projects help globalize the U.S. market.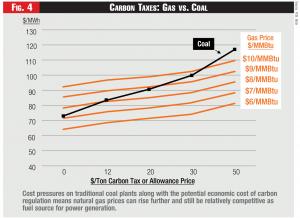 more at a single cavern. As a result, salt-cavern storage has become highly attractive for traders that want to capture value from daily and monthly price volatility. The slower speed of injecting or withdrawing gas from many depleted reservoir fields makes it more difficult to extract this value from short term volatility.
The storage needs of power generators and LNG players tend to be driven by day-to-day more than seasonal requirements, and therefore salt cavern storage would seem a better fit for their needs. However, recent advances in drilling technology have allowed some depleted reservoir fields to increase injection and withdraw speeds to the point where they can serve customers or traders with an interest in daily price volatility.
Storage Development Outlook
An unprecedented wave of underground natural gas storage development is underway. 110 Bcf of new "working gas" ( i.e., usable inventory) storage capacity is now under construction with another 600 Bcf under development (see Figure 2) . This development activity represents a potential 20 percent increase in storage working gas capacity.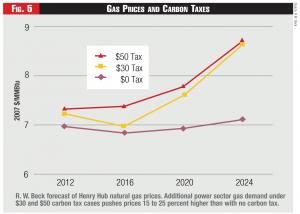 Most of this development activity is focused on salt cavern storage. Depleted reservoirs and small contributions from other types (mainly aquifers) comprise approximately 39 percent of all proposed capacity.
Also, there is a geographical impact from this focus on salt cavern gas storage (see Figure 3) . Due to the geological location of underground salt domes along the Gulf Coast and the focus on salt cavern storage development, the states of Alabama, Louisiana, Mississippi, and Texas comprise two-thirds of all working gas capacity development. Given the high deliverability, rapid cycling characteristics of salt cavern gas storage, the intense focus by storage developers on the Gulf Coast region is understandable. Plus the extensive pipeline infrastructure, numerous interconnections, and trading hubs along the Gulf Coast make a supportive web to encourage salt cavern storage projects. During the past several years, rising gas price levels and strong price volatility have enabled these types of storage projects to act as cash machines. Not only have the negotiated rates for firm capacity at these projects increased by 50 percent or more, but hub-services revenues from advancing (loaning) or borrowing (parking) gas to support trading have exploded.
However, it's important to note that gas storage development involves bringing together the right combination of many factors—such as a suitable underground reservoir or salt dome with the exact geological properties to support gas-storage operations, access to necessary pipeline infrastructure, technical and environmental expertise, marketing skills, and numerous other aspects.
As a result, in recent years more proposed working gas capacity has been cancelled than reached construction stage. Some of these projects failed due to regulatory and permitting challenges and some had difficulty attracting sufficient market interest.
Few gas-storage development projects can proceed without market support in the form of firm contracts, typically three to five years in length, for at least a portion of the capacity. While some investors may be willing to take on more revenue risk, many storage-development projects require debt financing, and lenders have maintained a strong line on this requirement. This has