Storage Surge
New gas projects help globalize the U.S. market.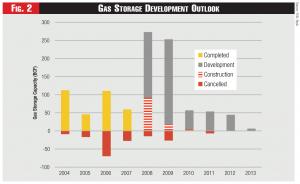 U.S. interstate gas business. With the implementation of Order 636 in 1993, the process of unbundling gas sales from interstate transportation effectively was completed. In the past, interstate pipelines had managed gas commodity purchase, transportation and storage for customers. The unbundling process moved responsibility for managing these components downstream, allowing customers to contract directly with independent storage providers if they desired. FERC's more recent actions have continued strengthening the competitiveness of service on the interstate grid and encouraging independent natural gas storage development.
As a result of these regulatory changes, while pipelines own the largest percentage of storage fields, gas utilities (LDCs) control most of the capacity of these fields through contracts for working gas capacity and deliverability. During the past decade marketers also have become significant players in natural gas storage, although they tend to focus on shorter-term contracts.
While these changes have led to the construction of new underground storage, starting in the 1990s, most operating gas storage is quite old. In fact, the average age of U.S. natural gas storage facilities is approximately 35 years. So the transformation still has quite a way to go. Meanwhile, the role most underground storage plays is almost the same as it was in the 1950s or 1960s.
Most underground natural gas storage plays a critical seasonal balancing role by providing a source of physical natural gas to balance relatively flat natural gas production throughout the year with weather-driven, highly seasonal natural gas demand.
U.S. gas consumption falls to less than 50 billion cubic feet (Bcf) per day during spring or fall (known as shoulder months) and can peak above 70 Bcf/day during winter. The growing summer peak in U.S. natural gas demand is driven by the use of natural gas in power plants. As a result, the market for summer gas is becoming more competitive.
In weather-sensitive consuming regions, storage located close to markets provides essential supply for peak seasonal periods. Underground storage provides economic benefits as well. By leveling wellhead production rates and increasing pipeline throughput, storage allows seasonal demand to be served in an efficient manner and provides end users with the opportunity to procure gas in summer, when prices should be relatively low, for use in winter, when prices typically are higher.
There are large differences in the types of underground gas storage, and as a result they perform different functions in the market (see sidebar, "Gas Storage 101") . LDCs primarily are interested in supply reliability to serve peak winter season needs. Therefore, LDCs control or contract primarily for depleted reservoir and aquifer storage.
With the build out of natural gas-fired power generation capacity during the merchant boom of the late 1990s through 2001, power generators became a significant potential storage customer, mainly to support daily balancing requirements on pipelines. More recently, as numerous LNG import terminals have been proposed in the U.S., LNG terminal operators and their capacity holders have become potential storage customers.
The flexibility of salt-cavern gas storage allows users to rapidly inject and withdraw inventory—in some cases up to 1 Bcf per day or