Energy Technology: Cultivating Clean Tech
New Models for Energy RD&D: A new 'Clean Energy Institute' could lead the industry's war on climate change.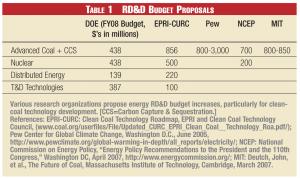 of the challenge, simply cannot be overcome by the expenditure of roughly $2 billion per year—about the amount of money we currently spend each week in Iraq. Those who expect DOE or anyone else, for that matter, to transform the largest human enterprise on the planet for that sum of money does not understand the scope and magnitude of the challenge." While the scope of the problem is large, time is short to find economical solutions. As carbon regulation becomes increasingly likely, and as reserve margins shrink, the need for commercially viable options for generating low carbon, clean energy distributed via a modern grid becomes ever more urgent. Climate-friendly power infrastructure must be deployed in a matter of years rather than decades—but at the current rate of RD&D, decades will pass before that technology is available.
Kurt Yeager, executive director of the Galvin Electricity Initiative, says this sense of urgency is the missing element in the current DOE program. He also believes that the utility industry, which must invest billions of dollars in new technologies, should take charge of the program's direction with a new or different management mechanism to ensure deployment and consistent funding levels.
Private Sector Mandate
Industry leaders have responded to this challenge within the last several months to propose alternative ways to structure the future of utility RD&D in the United States. Fortunately, much progress is already underway, and the industry can build upon this progress. The broad dimensions of the path forward have been articulated in numerous public and private industry plans. For example, in March 2008, the National Academies' Summit on America's Energy Future launched its program with a review of 12 different plans and studies. The common theme is that much more must be spent on RD&D if the nation is to achieve the generally-accepted goal of commercially available clean energy technologies by 2020.
Michael G. Morris, CEO of American Electric Power, recently expressed his concern about the lack of a national energy RD&D program, and advocated "a collective national commitment to a comprehensive long-term strategy to solve today's energy challenges, particularly the reduction of America's greenhouse gas (GHG) footprint."
Morris is exploring ways to privately fund and manage such a strategy. As chairman of the Business Roundtable's energy task force, Morris also announced the results and recommendations of a Roundtable plan in mid-2007, which set forth strategies to achieve clean-energy independence.
Similarly, Exelon's Chairman and CEO, John W. Rowe, outlined his clean-energy vision at the Brookings Institution on February 12, calling for leadership from industry. As the head of a nuclear-driven utility, Rowe projected setting a goal to "reduce, displace or offset the equivalent of our entire carbon footprint by 2020."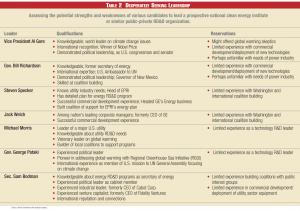 Furthermore, the utility industry leader in R&D, the Electric Power Research Institute (EPRI), has proposed a national strategy. EPRI describes its preferred option, "The Full Portfolio," as "an aggressive but feasible approach to reverse atmospheric carbon dioxide concentrations while meeting the growing demand for electricity."
Representing general business and industry at the national level, the U.S. Chamber of Commerce is also developing a