Energizing the Big Apple
Uncertain market design affects generation investment planning.
They say "the neon lights are bright on Broadway," and keeping them all lit is a monumental task 1 New York City, America's most populous city, is like many other urban areas in that it depends on high-voltage transmission to import much of its power from generation located in the surrounding countryside.
Faced with state-wide electric utility restructuring and power-market deregulation, the state of New York constantly has been adjusting the state's power markets to meet the potentially contradictory goals of low cost, yet reliable power. In New York this has taken many forms, including monitoring of energy prices, caps on capacity prices and forced divestment of assets to reduce potential market abuses. While much progress has been made, the New York City Market, labeled Zone J by the New York Independent System Operator (NY-ISO) still is evolving, and asset-investment decision-makers need to recognize the risks associated with potential changes.
New York Capacity Auctions
The NY-ISO manages the state's power system and administers all power-related markets—energy, ancillary services and capacity. Energy is priced using locational-based marginal-pricing to value congestion on a near real-time basis, similar to the system already in use in New England, PJM, MISO and SPP.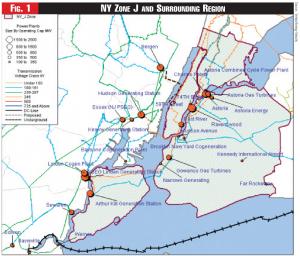 Capacity market prices are managed in a series of three auctions. The first auction is conducted to set monthly prices for the upcoming six-month winter or summer capacity obligation period (the "strip auction"). The second auction is conducted monthly for the prompt month and the balance of the current strip. In the third and last auction, commonly called the spot auction, the prices are set to accommodate any prompt-month demand not fulfilled in the first two auctions.
In the first two auctions there is no direct regulation of prices. In the third auction, all uncommitted capacity is offered, and the price is determined by a pre-defined downward-sloping demand curve.
2
While much attention is focused on the demand curve associated with the spot-market auction, in recent history capacity has been actively traded in all three auctions. Most of the capacity in Zone J initially was offered into the six-month strip auctions
(see Figure 2)
. For the summer 2003 capability period starting in May of that year, the NY-ISO implemented its current downward-sloping demand-curve process for the spot-market price determination, replacing a methodology that implicitly relied on vertical demand curves. The impact on relative participation in the markets was immediate and dramatic, with much of the capacity moving to the monthly and spot markets. Post-2003, asset owners continually have "searched" for a proper balance in the three markets