Transformer Change-out
New DOE rules mandate more efficient (and expensive) equipment.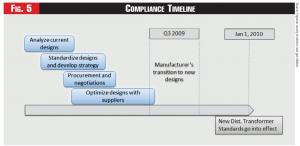 Enporion, a supply-chain management company, to conduct a survey of peer utilities to gain insight into the changes in procurement activities resulting from the new DOE rule on efficiency requirements.
In total, 22 U.S. electricity and gas utilities participated in the survey, representing a broad cross-section of customer size, geography, regulatory environment, and market capitalizations. Survey respondents included companies with annual revenues ranging from over $300 million to over $17 billion.
All 22 respondents indicated their discussions with suppliers have included design changes, manufacturing capacity, and material procurement plans. In fact, utilities appear to be examining how suppliers source and manage their own manufacturing inputs, such as raw materials and commodities. To mitigate risk, some utility companies are even asking to see suppliers' long-term procurement plans. The most frequent expected impact was the clear potential for price and supply uncertainty.
Companies impacted by the new rule are taking actions to manage the higher costs of heavier compliant transformer designs, including working directly with manufacturers to understand and plan for the full impact, and working with them to mitigate controllable cost variables ( e.g., overhead costs); collaborating with manufacturer's engineering teams to ensure they're designing the most cost and quality efficient units; consolidating SKUs; and making sure the utility's requirements are incorporated in the manufacturer's capacity plans. Additionally, buyers for some utility companies are putting efforts into developing efficient electronic procurement and contract-management systems.
Utilities are seeking financial relief by working with jurisdictional authorities to demonstrate their transformer replacement strategies are cost effective and prudent. Many companies are rehabilitating more transformers and reviewing transformer repair options (See sidebar, Refurbishment Options.) And some are incorporating market hedging into their plans to control cost increases—even to the point of stocking up on non-DOE compliant units prior to the mandate, and sourcing compliant transformers for the 2010 to 2012 period as early as possible.
Endnotes:
1. Consent decree in consolidated civil actions, New York v. Samuel Bodman and DOE, and Natural Resources Defense Council v. Bodman and DOE , U.S. District Court for the Southern District of New York, Nov. 3, 2006 .
2. U.S. Department of Energy Distribution Transformers Energy Conservation Standard, Final Rule 72 FR 58190 , Oct. 12, 2007 .