Federalizing the Grid
Renewable mandates will shift power to FERC but pose problems for RTOs.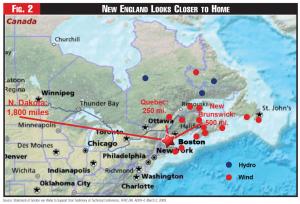 the larger-capacity Palo Verde nuclear plant in Arizona, Wellinghoff noted, that by contrast stands as the largest single contingency in the Western Interconnection, requiring the greatest degree of redundant investment.
That's what you get with impressive talent and leadership.
So it fell to the ranking minority member, Sen. Lisa Murkowski (R-Alaska), to redeem the Republican cause. Toward the end of the hearing, she finally extracted a concession of sorts from Graham Edwards, acting president and CEO, Midwest Independent Transmission System Operator, Inc. (MISO). Murkowski asked him about the study released February 9 by the Joint Coordinated System Plan (JCSP), representing MISO, PJM, TVA, and other regional planning agencies (see Figure 1) , which had reported that $80 billion was needed for new grid lines in just the Eastern Interconnection to accommodate a 20-percent federal RPS mandate. Edwards responded that for analysis purposes the JCSP planners had assigned only a 15-percent capacity factor to wind resources, recognizing its intermittency.
The Audacity of Wind
To better understand the problem, consider FERC's recent experience with a handful of individual transmission line cases—covering a wide range of projects featuring both DC and AC lines, rate-based and at-risk merchant investment vehicles, and geographic areas both within and without established RTO zones:
• Green Power Express . Sponsor: ITC. 12,000 MWs AC capacity. 3,000+ miles 765 kV. Dakotas to Chicago, Twin cities and SE Wisc. Regions: MISO, PJM, MAPP. $10 billion to $12 billion. Request pending for rate incentives. (FERC Dkt. ER09-681 . See, www.thegreenpowerexpress.com.)
• Chinook/Zephyr. Twin merchant projects, each sponsored by TransCanada. (A) Chinook: 3,000 MWs DC, 1,000 miles 500-kV, Montana to Nevada. (B) Zephyr: 3,000 MWs DC, 1,100 miles 500 kV, Wyo. to Nev. Authority granted for each to award 50 percent of line capacities to a private wind developer and "anchor tenant," outside of any open season or OASIS solicitation. (Dkt. Nos. ER09-432, ER09-433, Feb. 19, 2009, 126 FERC ¶61,134 . See, www.transcanada.com/company/zephyr _chinook.html ).
• Tallgrass/Prairie Wind . Two projects, sponsored by Electric Transmission America (AEP & MidAmerican Energy), with co-sponsors OGE Energy (Tallgrass) and Westar (Prairie Wind). TG: 170 miles 765 kV in Oklahoma; PW: 230 miles 765 kV, in Kansas. Rate incentives granted on condition of project being approved by planning agencies. (Dkt. Nos. ER09-35, ER09-36, Dec. 2, 2008, 125 FERC ¶61248 . See, www.tallgrasstransmission.com, and www.prairiewindtransmission.com.)
• Quebec-New Hampshire . A single line sponsored by Hydro-Quebec, NStar, and NE Utils. 1,200 MW DC. Length unknown. Quebec to southern New Hampshire. ISO New England Region. Seeks to award access rights to line owners, without open season and/or OASIS offer, and to sell transported energy in bilateral deal outside of regional market, in exchange for participant-funding by sponsors. The request is pending, but so far has drawn vociferous opposition from virtually all power industry sectors. (FERC Docket No. EL09-20.)
• Maine Power Connection . Central Maine Power, Maine Public Service. 200 miles 345 kV. ISO-NE region. Would interconnect proposed wind projects in N. Maine with rest of New England. Order granting rate incentives granted. (Docket EL08-77,