Anatomy of Sealed-Bid Auctions
Bringing flexibility and efficiency to energy RFPs.

ways. First, prices can be requested for more specific time periods, such as on a monthly basis, for customer groupings. For example, Connecticut Light & Power, United Illuminating, and NSTAR each request pricing on a monthly basis. Connecticut Light & Power and United Illuminating go further and request that a bid's prices be broken down into on- and off-peak periods. Second, prices can be requested for specific customer rate schedules within a customer grouping and further broken down by the actual diurnal time of use. For example, the utilities serving Maryland and District of Columbia use this type of pricing format. Specifically, these utilities request prices for a particular customer grouping (e.g, residential, small commercial and industrial), but within the grouping they solicit prices by rate schedule. Depending upon the rate schedule itself, pricing can be broken down by season (e.g, summer and non-summer), as well as time of day ( e.g., peak, intermediate, and off-peak). Often the more refined prices in the winning bids for these solicitations can be used directly in customer rate schedules. However, the bid formats' spreadsheets typically take more refined pricing and reduce it to a single price that then can be used to determine the winning bids.
Many sealed-bid auctions use bid formats that require bidders to make offers for a single tranche in each submitted bid form. If a bidder wants to make offers on multiple tranches, the bidder must submit a separate bid spreadsheet for each offer. Utilities in Connecticut use this type of bid format. Other bid formats allow bidders to make offers for multiple tranches in a single submitted bid spreadsheet. For example, the utilities in Maryland and the District of Columbia, as well as PPL Electric, use bid formats that provide for multi-tranche offers in a single bid spreadsheet.
In some limited instances, bid formats also can allow bidders to elect whether or not they'll manage the costs associated with congestion. For example, Connecticut Light & Power and United Illuminating allow bidders to decide whether their offer pricing places congestion risk with the bidder or with the utility's customers. 10 NSTAR also allows bidders to submit offers that will place the risk of wholesale market charges associated with reliability costs on NSTAR's customers as opposed to paying suppliers to manage this risk. Bid formats are designed to take into account these preferences of bidders separate from their offer pricing structure.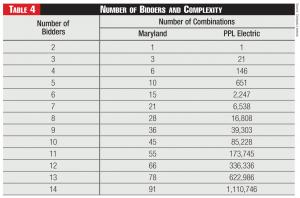 Although bid formats often appear similar (even though offer pricing may be more or less refined), subtle differences can affect the offers that suppliers submit. The utilities in Maryland and the District of Columbia request that a bidder provide a price per MWh and the number of tranches the bidder is willing to supply. The utility can take any number of tranches up to the number indicated by the bidder at the single price the bidder identifies. Here the bidder is unable to condition the utility's acceptance of the bid on taking supply of all the tranches indicated. For example, suppose a bidder bids to supply three tranches at $85