Ontario's Failed Experiment (Part 2)
Service quality suffers under PBR framework.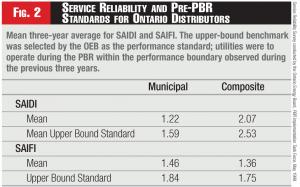 service indicators, and to apply a utility's historic performance as its specific service reliability standards. Where a utility has not monitored service reliability in the past, it is required to initiate monitoring and reporting of the indices. (7-2)
Thus for the system average interruption duration index (SAIDI) and system average interruption frequency index (SAIFI), "All planned and unplanned interruptions of one minute or more should be used to calculate this index. Utilities that have at least 3 years of data on this index should, at minimum, remain within the range of their historic performance." (7-6, 7-7)
With respect to service degradation and remedial action, the OEB noted: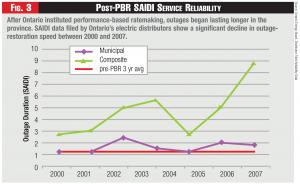 In the absence of historical service quality data, it is not possible to identify service degradation during the first year of the PBR plan. However, upon review of the first year's results, the Board will determine whether there is sufficient data to set thresholds to determine service degradation for years 2 and 3. When established, the Board will issue these thresholds and any utility whose performance falls below these thresholds will be required to file a remedial action plan. (7-10)
It is anticipated that by the second generation PBR plan, there will be sufficient data collected to set industry service-quality performance standards. Once these standards have been established, PBR incentive mechanisms with economic consequences will be introduced around the service quality indicators. (7-10) However, it appears this work hasn't been completed.
OEB's 2003 Review
The OEB noted its responsibility with respect to service/reliability, as well as the necessity to evaluate prices, hand-in-hand with the actual service/reliability delivered to customers. In August, 2003, the OEB began a review of service-quality regulation. The OEB acknowledged: "Section 1 of the Ontario Energy Board Act, 1998 states … The Board, in carrying out its responsibilities under this or any other Act in relation to electricity, shall be guided by the following objectives: ... 3.To protect the interests of consumers with respect to prices and the reliability and quality of electricity service."
Furthermore, the OEB noted that the issues of distribution prices and service quality are integrally linked together. "… [A] determination of just and reasonable rates must take into account the adequacy and level of service quality …"
The August 2003 notice reviewed the OEB's initial PBR decision and specification of service/reliability indicators. Speaking of the standards in the 2000 Handbook, the notice said, "For most SQIs, the Board approved initial minimum standards. The Board determined that other aspects of service quality regulation, including remedial action and/or financial consequences of service degradation, should be considered, but that a proper assessment… required experience with the measurement and reporting of the SQIs."
The notice discussed recent developments regarding second generation PBR:
…the Board advised stakeholders of the planned phased development of a second-generation PBR ("PBR II") plan. A review of currently reported service quality indicators and associated standards, as well as consideration of other indicators and elements of service quality regulation, were identified as one of the components of PBR II plan development….As electricity distributors have been reporting their service performance