The Fortnightly 40
The 40 Best Energy Companies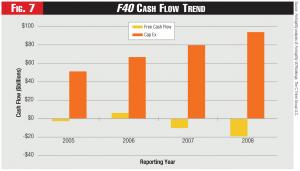 demand-side initiatives.
For example, this summer the Ohio PUC approved a settlement agreement that increases DP&L's residential rates by just under 2 percent on average each year through 2012, and includes a lost-revenue clause that compensates the company for up to $172 million in electric-distribution losses. The deal dovetails with DP&L's electric-security plan, mandated by the Ohio legislature under SB 221, which requires the state's utilities to implement market-based retail pricing and to invest in green-energy infrastructure.
"We're going to be putting in smart meters, which would allow our customers to use time-of-use rates," says DPL's Barbas. "Our plan over 10 years is to build out the smart grid across our service territory, not just getting meters out there, but also improving our infrastructure, reducing line losses and increasing the efficiency of the entire network." Additionally, DP&L is seeking federal grants to help accelerate its smart-grid rollout during the next three years.
Further to the northeast in Akron, Ohio, FirstEnergy secured about $137 million in its rate case early this year—nearly 60-percent less than the $338 million it had requested. A few months earlier, the Ohio PUC approved FirstEnergy's electric-security plan, which included a rider to finance mandatory improvements in the company's distribution infrastructure—what the commission called a "reasonable approach" to smart grid and AMI technology. Now, Alexander says, the company is working to comply with the state's mandates, while making the most of its unregulated generation fleet.
"We're not relying on additions to our rate base for growth, but instead on an integrated strategy between our wholesale and retail operations," he says. "Our portfolio is very well balanced, and we see our growth primarily on the competitive-generation side of the business. Over several years we invested to make our generating plants more efficient and to add capacity. Now we're locking in that advantage and hedging our position through retail sales."
By contrast, New Jersey Resources—which rose to the 8th position in the 2009 F40 rankings, after being ranked 10th last year—is finding business opportunities in the state's policy mandates. In October 2008, the New Jersey Board of Public Utilities (BPU) approved $32.5 million in rate increases for New Jersey Natural Gas (NJNG). The company's base-rate case provided a 10.3-percent ROE and four-year amortization for the company's expected $21.1 million investment in energy-efficiency programs, recoverable through a new rider assessed on customers' bills that started in August 2009. Additionally, the company recently filed to extend a conservation-incentive program, which the BPU originally approved in 2006 as a three-year pilot, and that NJNG says reduced the average participating customer's gas usage by 9 percent. The company cited the program as one reason it raised its earnings guidance in the second quarter of this year.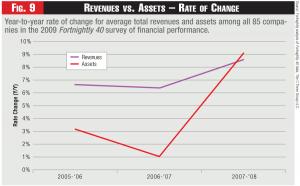 "There's a lot of opportunity in energy efficiency, a lot of work to be done," says New Jersey Resources CEO Laurence M. Downes.
The gas utility also is pursuing opportunities to serve the state's renewable energy and GHG-reduction goals. "Plans are still being developed," Downes says. "The way the RGGI [Regional Greenhouse Gas Initiative] legislation is crafted, natural gas