Fragile Foundation
The capital markets have recovered … or have they?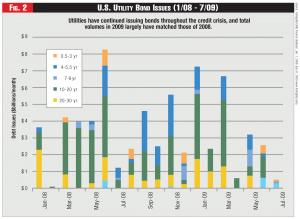 not unusual to see $2 billion worth of investor demand for a $500 million issue. Issues by single-A rated utilities are trading in the secondary market at 110-basis points over the 10-year Treasury. The last time spreads were that low was September 2007. Spreads went up to about 340-basis points in November 2008, and since then they have tightened markedly. Bonds from triple-B rated utilities, which comprise a greater portion of the universe, are trading at 200-basis points over the 10-year Treasury, and back in November 2008 they were as high as 440-basis points over Treasuries. So we've seen spreads tightening for the market in general, and for utilities in particular we've seen a spectacular tightening in spreads.
At the same time Treasury rates are at all-time lows. These low rates, combined with lower spreads than we had even a few months ago, have made for an attractive market for companies seeking capital by issuing bonds. We're in a sweet spot right now.
Early in the year, utilities were hesitant to move forward with capital-expense plans, in part because of the recession, and in part because of uncertainty about the direction in federal energy policy. Now that the industry has become more comfortable with what's going on in Washington, they're going to market to finance their future cap-ex needs. The total volume of utility debt issues from January through October 2008 was about $35.9 billion, and so far in 2009 the volume has reached $31.3 billion. It was slow early in the year, but I'm guessing by October we'll catch up.
Nastro, Morgan Stanley:  The buy side's view of the broader economy continues driving valuations and access to capital for companies in the utility industry. If it's a short, shallow recession, which we'll come out of more quickly, then the hybrid names—with more non-regulated market exposure—likely will outperform the rest of the industry. But if the economy takes a step back, and we have a longer, deeper recession, then the regulated names will be the beneficiaries.
In terms of the broader equity markets, second-quarter earnings reports were more positive than many analysts anticipated. About 75 percent of the S&P 500 beat earnings estimates—but only 40 percent of these companies beat revenue estimates. This raises questions: How sustainable will these ongoing earnings be? Are cost-cutting measures eating into companies' expectations? People are questioning the timing of the recovery and economic fundamentals going into 2010. Cost cutting alone won't get us there.
At the same time, investors want to deploy the capital that has been sitting on the sidelines. As economic fundamentals continue to improve, we still see high cash positions among major investor groups, and this cash could come off the sidelines to further support a rally. New issues are the beneficiaries of that cash being put to work. However, we believe this is largely a technical rally, with five months of consecutive mutual fund inflows happening after 10 months of consecutive outflows.
Whether regulated or hybrid, at this point valuations are largely on top of each other when you look at forward