Annual ROE Survey: Austerity Savings
Volatile economic conditions push regulators in new directions.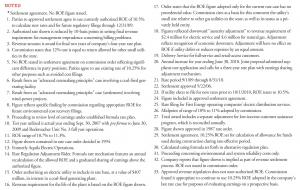 the ROE in accordance with the results of financial models, but at the same time took away revenues by adjusting cost-of-service estimates to reflect the savings expected under mandated austerity savings programs. The PSC was careful to explain, however, that if the cost savings weren't found, the utility could petition for a deferral of the costs and possible recovery in a future rate period.
For example, the PSC recently has approved a rate increase of $721 million for Consolidated Edison of New York. In that case, the PSC established an ROE of 10 percent for the utility, an increase from its earlier authorized ROE of 9.1 percent. The PSC reviewed several measures designed to reduce the level of the increase in the context of the current economic downturn. It determined that Con Edison should impose additional cost-cutting measures and directed the company to identify and implement an "austerity budget" that would reduce its revenue requirement by $60 million for the coming year.
The issue of the proper ROE remained separate from the austerity savings ruling, however. Through the trial briefing stage, the company supported an 11-percent equity return allowance but reflected only 10 percent in its May 2008 tariff filing. The PSC noted that it's unusual for a utility to support one equity return in testimony and to reflect a lower one in the revenue request set forth in its tariff filing, but accepted the filing and went on to examine the results of financial models presented in the case. The PSC did note that the revenue requirement difference between 10 percent and 11 percent was approximately $115 million a year. The company described its 10-percent request as part of its proposal to "ameliorate bill impacts on customers." The PSC went on to find that assigning a two-thirds weight to results under its own discounted cash flow analysis, and one-third weight to an average of the capital asset pricing model to the results presented by the parties to the case, showed that independent of the company's offer to settle for a 10-percent return based on its original request, the same increase in the company's ROE proved to be the one that the evidence had shown to be adequate to compensate investors and attract capital in the near future.
Nevertheless, turning back to the issue of the macroeconomic concerns in the marketplace, the PSC stated that expenditures that are reasonable during average or good economic times aren't necessarily reasonable when economic conditions are extremely poor. When consumers are experiencing an extraordinarily harsh economic climate, a certain measure of frugality is properly expected from utilities and a reprioritizing of expenditures may be needed, the PSC said, citing such measures as freezing executive pay, restricting hiring, cutting travel costs and other so-called "discretionary" expenses. With this said, it ordered a downward adjustment to the company's revenue requirement amounting to $60 million, half of which will be subject to further review and potential deferral based on a review of the company's ability and best efforts to implement the required measures effectively. It pointed out that this