A Continuing Reign of Incoherence
How EPACT fails to address key industry issues.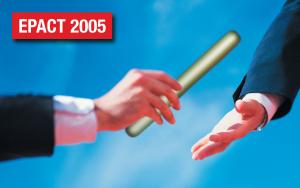 US. energy stakeholders have for too long been fooled into believing that patchwork reforms are a substitute for coherent policies. The Energy Policy Act of 2005 (EPACT) 1 is the latest, and hopefully the last, example of this tradition.
The key issues confronting U.S. power markets are, for the most part, well-known and generally not in dispute. Three of the most pressing—the first two are addressed in the Act—are:
Volatile prices and supplies of fuel stock;
Insufficient or erratic capital investment in generation and transmission resources; and
Energy commodity pricing that fails to reflect the "all-in" cost ( i.e., including environmental costs) of fuels for thermal generation.
EPACT fails to advance or resolve these key issues, thereby presenting yet another opportunity for stakeholders to mistake marginal changes for substantive reform.
Volatile Prices and Supplies
The price volatility of hydrocarbon fuels, together with the march toward competitive electric markets over the past 25 years, has caused electric utility stakeholders to focus on the need to mitigate price and supply risks associated with imported fuels. (In fact, electric market reforms in the United States originally were promoted to reduce price risks associated with imported oil.) Without a mitigation strategy, stakeholders are left to haggle in a zero-sum environment, where one stakeholder group can win only at the expense of another.
Regrettably, although EPACT was said to offer relief for high energy prices, it does little to address the systemic causes of these risks. Rather than enhance the efficiency, reach, or scope of U.S. energy markets, EPACT resembles a policymaker's "catch-up" strategy, focusing on long-neglected issues of transmission investment, reliability, and efficiency while ignoring the potential for expanding the scope and efficiency of electric markets.
EPACT does almost nothing to improve the coherence or efficiency of markets, or of the legal and regulatory framework that governs them. In perhaps the best indicator of this shortcoming, the Federal Energy Regulatory Commission (FERC) continues to struggle with the application of regulatory tools that have not been amended substantially since passage of the Federal Power Act (FPA) 2 in 1920.
In a wide variety of contexts ranging from the imposition of "equity re-openers" in the 1980s to the attempted expansion of its transmission jurisdiction to nonjurisdictional municipalities, to the recent revocation of market-based rates of more than 100 companies, there is little doubt that FERC has struggled to adapt an old statute to a much changed commercial environment. Despite these and other challenges, the act makes few changes to the basic FPA framework, thereby missing a key opportunity to advance FERC's ability to influence the operation or efficiency of U.S. electric markets.
That said, EPACT does contain a variety of research and other incentives to encourage the development and deployment of nuclear energy and alternate resources such as renewable energy technologies. Also included are a wide variety of energy-efficiency provisions that increase the energy efficiency of federal buildings, offer incentives for