Buying Into Solar
Rewards, challenges and options for rate-based investments.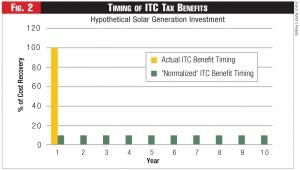 regulated utility investment in solar generation apparently improved significantly when President George W. Bush signed the Emergency Economic Stabilization Act in October 2008, removing the specific exclusion of utilities from generating investment tax credits (ITC) for solar investments. Now that the exclusion has been lifted, the ITC offers current-period reductions in tax liabilities to IOUs that can lower investment costs, a benefit that heretofore was available only to IPP investors in solar generation.
Yet the playing field between IOUs and IPPs still isn't level as a result of this change in the tax code. This is due in part to normalization accounting that applies to ratemaking rules in the tax code related to ITC ( see sidebar "Normalization Requirements ").
This important aspect of the tax code requires IOUs to share ITC tax benefits with customers over time to preserve IOU's investment incentives. If an IOU were to share ITC tax benefits with customers immediately, the investment incentive that the U.S. Congress intended IOUs to have would be lost. Congress repeatedly has confirmed that the goal of the ITC is to stimulate investment by the utility industry and not solely to lower utility bills.
While normalization accounting does indeed preserve a portion of an IOU's ITC investment incentives, these IRS rules don't apply to independent power producers (IPPs). IPPs with the tax capacity have flexibility in how they incorporate ITC tax impacts into their bid prices per kilowatt hour when competing with IOUs on generation resource opportunities. Though complicated to calculate, the outcome is easy to understand: Entities that must use normalization accounting (regulated utilities) have less flexibility in how they pass through the benefits of the ITC (likely over a longer period of time) than entities that don't (IPPs). As a result, IPPs have more flexibility in how they choose to incorporate ITC tax benefits when calculating bid prices for solar energy. IPP solar energy bid prices might be lower in terms of utility customer rate impact than regulated investment in solar generation, on a head-to-head bid basis—assuming the IPP has tax capacity and chooses to pass through a greater portion of the ITC benefit more quickly than a regulated utility is allowed to. While this potentially puts IOU-owned solar generation at a competitive disadvantage on an everything-else-equal bid-price basis, regulated investment offers many qualitative advantages over IPP ownership of solar generation.
Of course there are other challenges related to utility investment in solar generation beyond normalization accounting. One of the largest is simply the demand for capital. Utilities have many transmission and distribution system responsibilities that result from their obligations to serve that require capital, including smart-grid and smart-metering investments. Regulatory uncertainty also looms large.
Qualitative Societal Benefits
There are also other benefits to regulated utility ownership of solar generation that IPP ownership doesn't offer. Though they can be difficult to quantify, they are nonetheless real benefits to ratepayers specifically, and to society in general. There are traditional arguments for regulated ownership that apply even to fossil-fueled generation; arguments for regulated ownership related specifically to renewable generation; and arguments for