Gas Market Outlook
Why America's bridge fuel faces a road block.
oversupply situation to be short-lived.
On a regional basis, one of the most dramatic changes in 2009 was the increase in Rockies' natural gas prices relative to Henry Hub. Rockies' natural gas prices have increased, reflecting the increased pipeline capacity out of the region with the start up of the 1.8 Bcfd Rockies Express Pipeline (REX) being built by a partnership of Kinder Morgan, Sempra and ConocoPhillips. The REX pipeline out of the Rockies is part of a surge in U.S. gas pipeline infrastructure that includes the shale-driven pipeline infrastructure out of North Texas and the Midcontinent and LNG pipeline expansions. Approximately $10 billion was spent constructing natural gas pipelines in 2008, which was about five times the average for the previous 10 years, and 2009 and 2010 will be well above average as well. The supply sources behind the REX pipeline are primarily coal bed methane and tight gas; two unconventional gas resources that are prevalent in the Rockies and highlight that the improved outlook for unconventional gas production includes more than just shale.
Underground storage inventories reflected the oversupply conditions during 2009 with storage inventories well above the typical range based on the levels observed over the previous five years. Colder than normal weather in much of the U.S. this winter resulted in a strong drawdown in storage inventories. For example, in January 2010, storage levels dipped below the previous five-year maximum for the first time since May 2009, indicating that the supply glut of 2009 is no longer a primary driver for natural gas prices (see Figure 2) .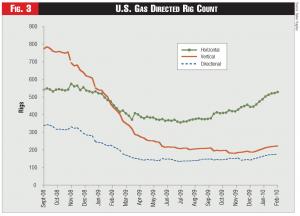 The most dramatic change in storage levels occurred in the Gulf Coast production region, which has declined by over 600 Bcf since the start of December or an approximate 50-percent decline in 12 weeks. In fact, production region storage levels now are more than 100 Bcf below levels one year ago, after last summer's surging shale gas production. Eastern and Western regional storage inventories have been drawn down to levels at, or just slightly above, levels from one year ago.
The over-supply condition in U.S. natural gas markets was exacerbated in 2009 by falling natural gas demand. U.S. natural gas consumption was down approximately 2.5 percent, largely due to sharply lower industrial sector consumption, which is down approximately 10 percent compared to 2008. In contrast, power generation sector natural gas demand was up approximately 3-5 percent despite relatively mild temperatures this past summer and relatively low electricity demand due to the impact of the economic recession. The increase in the use of natural gas for power generation came at the expense of coal-fired power generation, further highlighting the degree to which natural gas prices fell in 2009.
In the face of weak demand and collapsing prices, natural gas producers slashed capital budgets during 2009 and lowered exploration and development activity. An examination of the monthly break out of gas-directed drilling rigs illustrates the precipitous decline since the gas-directed rig count peaked at over 1,500 in September 2008 (see Figure 3) . The shift toward unconventional production also is apparent as